Specialist Travel Software Available to All New Zealand Regional Tour Operators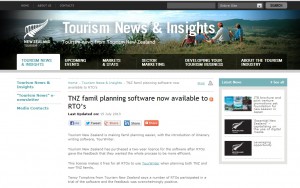 We are proud to announce Tourism New Zealand is now using Tourwriter travel software for their famil planning. The introduction of specialist travel software ensures all RTO's will have access to a single platform streamlining the itinerary creation process.
Below is information loaded on the Tourism New Zealand website or you can link to the site here
Tourism New Zealand has purchased a two-year license for the travel software after RTOs gave the feedback that they wanted the whole process to be more efficient.
This license makes it free for all RTOs to use Tourwriter when planning both TNZ and non-TNZ famils.
Tansy Tompkins from Tourism New Zealand says a number of RTOs participated in a trial of the travel software and the feedback was overwhelmingly positive.
"After a number of requests for a cloud based tool, we identified and trialled Tourwriter with Destination Queenstown, Tourism Dunedin, Positively Wellington Tourism (PWT), Tourism Waitaki and Hawke's Bay Tourism.

"Given the positive response, we have purchased a licence that will enable RTOs to use Tourwriter for all of their famils (both TNZ and non-TNZ) for the next two years.

"Tourwriter will make it easier and faster for all users to create famil itineraries."
With the increase in government funding, RTOs can expect to see a rise in famil numbers which makes the New Year's introduction of Tourwriter a timely and welcome addition to the famil planning process.
PWT International Marketing Executive Bryn Lloyd says; "The software's added efficiency and quality control allows for building bespoke itineraries fast. I can spend more time out with visitors to the capital showcasing Wellington and its surrounding regions."
He says the investment in Tourwriter travel software not only helps generate value for the tourism industry now but also invests in its future.
Charlie Ives from RTONZ says; "Anything that makes planning easier and more efficient is a positive move. I am pleased to see Tourism New Zealand stepping up and providing travel software to all the RTOs to support them."
The team at Tourwriter is looking forward to working with Tourism New Zealand and all the RTO's on this huge project. If you work with a Regional Marketing Organisation contact us to find out how we can help you become more efficient.