How Can You Compete with the Bigger Brands in Travel?
For any tour and travel company with an online presence, competition – especially with some of the largest organizations out there – is part of business. Naturally, bigger companies have more resources at their disposal, which can make it seem impossible for smaller ones to keep up.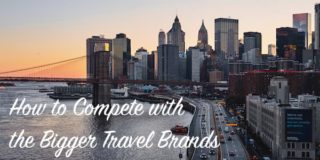 Fortunately, that is not always the case. Travelers' booking habits show that, with a winning strategy and the right tools at their disposal, companies of any size can still thrive in the world of online travel booking.
What Are Small Tour Companies up Against?
Crafting an optimized website is rapidly becoming a more exact science instead of a delicate art – layout, design and other crucial elements can now be determined with the assistance of thoroughly analyzed user-experience data.
This is one of the main areas being studied at Expedia's Usability Lab – a department established at the company's Washington-based headquarters to study how consumers navigate the holiday-purchasing process, according to a Tnooz report.
One of the lab's main goals is to track customer preference patterns and regional trends – and use that information to help present potential clients with the most relevant, customized information that is more likely to lead to a purchase.
In other Expedia labs, this study is being taken a step further with an even deeper level of analysis of the shopping experience. While potential travelers acting as research subjects simulate booking a holiday, sensors applied to their cheeks and foreheads are able to detect facial expressions and a computer-mounted camera can track their eye movement – noting what they look at on the screen and their reaction to it.
Researchers can follow along in real time on an identical screen that shows what the subject is looking at, while readouts show his or her emotional response based on facial muscle movements – such as a smile or a furrowed brow.
As Tnooz reports, Expedia plans on opening these labs in Singapore and London in the summer of 2016, meaning that this data can be collected from customers on a global scale.
Data-Driven Design Isn't Everything
While such an operation may seem daunting, owners of smaller organizations don't need to worry; there are several reasons why they are still in the game.
Fortunately, research indicates that shoppers are not too keen on sticking with only one provider when researching their options for travel. As potential holiday goers check out different destinations, hotels, and flights, they often get far enough in the process to see the online shopping cart at each site they view. Of course, they don't complete the purchase with every company – only one tour provider will see a profit from that customer. The rest of the shopping carts will just sit there, inactive, until the system clears them.
Research from Boxever shows that the value of these abandoned travel plans is astronomical – not to mention significantly higher than the actual amount tour and travel companies make. In 2014, the online travel industry took in US$446 billion, but the amount travel planners left unbooked in shopping carts was almost US$1.78 trillion – three times higher.
So, since travelers are still open to checking out different providers before choosing one, how can your tour company stand out from the rest? There are a few different ways.
Making Yourself Stand Out
Put simply, the best way to remain competitive as a smaller organization is to make sure customers find your company and to provide them with a level of service that keeps them coming back and spreading the word. Explaining this strategy is easy, though carrying it out isn't much more difficult.
The first step is making sure that customers know what your company is and – most importantly – what it offers that they won't find elsewhere. This is an area where marketing your brand can truly pay dividends.
Part of a strong marketing strategy lies in the effective use of landing pages. These areas of your website – more specialized than your home page – provide customers with a platter of useful and targeted information that will let them get down to business right away. Unbounce found that an optimized and tested landing page can result in a higher conversion rate and a lower cost of acquisition – without an increase in marketing costs.
Once customers are drawn to your website, it's crucial to provide them with a memorable experience. This is where personalization and a killer sales team can really pay off. According to Econsultancy, 74 percent of marketers agree that a personalized experience is key to increasing customer engagement.
One of the most effective ways to improve this area of business is through giving your sales team the time they need to nurture customer relationships and deliver a more attentive level of service than other, larger companies. By optimizing back-end processes and reducing backlog, Tourwriter can help. Learn more about the benefits of travel agency software for your business.