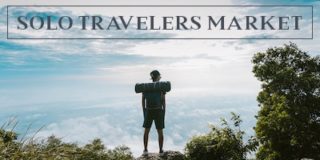 Traditional views of holiday-makers generate images of families, friends or couples on a romantic getaway. While this is still the case, recent research indicates a surge of solo travelers. In Australia, this is largely helped along by older travelers.
Catering to the needs of these pilgrims is essential to running a successful tour and travel company.
Increase in Solo Travelers
According to the 2015 Visa Global Travel Intentions Study, solo travel continues to rise. The proportion of these types of holiday-makers has increased from 15 percent in 2013 to 24 percent in 2015 as indicated by this research.
Furthermore, these travelers are more likely to seek the benefits of personal guided tours. Visa's study estimated that this type of travel has increased from 9 percent in 2013 to almost triple the amount, 24 percent in 2015.
Recent research reveals that not only is the number of solo travelers increasing, but more are from the older demographic.
Older Travelers Are Increasingly Undertaking Trips Alone
According to Roy Morgan Research, in the year to June 2015, we saw 5,355,000 Australians aged 50 years and overtaking at least one holiday.
This is a significant increase from the 12 months to June 2007, which saw 4,464,000 of these tourists taking trips. Furthermore, the number of those who undertook their travel solo rose 15.4 percent to 16.3 percent in the age groups between 50 years and 79 years old.
While travelers under 50 years old also rose during this period, it was to a much lower degree (from 6,386,000 to 6,738,000).
Roy Morgan Research Group Account Director Angela Smith notes that older Australians are taking advantage of their lifestyle to travel more.
"As our average life expectancy and the number of Aussies aged over 50 continue to rise, the fact that an increasing number of older folks are traveling makes perfect sense," says Ms Smith. "To make sure they are meeting the needs of this important segment of the market, travel and tourism operators need to be aware of how they differ from younger solo travelers."
Understanding the demographic is key for travel companies to ensure they are catering to their needs. Roy Morgan Research found that from the 50 years and above group, solo travelers were more likely to visit certain places, including:
Museums and art galleries
Parks and gardens
Historical sites
Using Travel Software Can Increase Profitability from Solo Travelers
With more solo travelers opting for professionally guided tours, a simplified way to manage bookings and back office admin can ensure that lower value itineraries can still be profitable. Utilizing booking software can streamline the process, ensuring the growth in the solo traveler market doesn't negatively impact your business!
Moreover, the rise in older solo adventure seekers is a trend that may spread to other parts of the globe. As such, travel companies should be ready to provide these customers with the hotel bookings and itineraries they need. And don't forget to track solo travelers in your CRM software so you can market directly to them in the future.
Get in touch with me if you have any questions on how creating back-office efficiency can help you better manage solo traveler bookings.