Across the globe, tour businesses are starting to reap the benefits of a recovering economy. Following a pretty serious financial crisis, flights are booking up and people are heading overseas.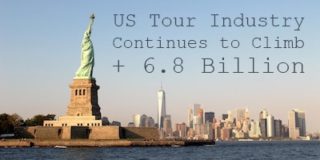 In the US, residents logged a staggering number of trips for leisure purposes, according to the U.S. Travel Association, while business travellers racked up similar numbers. What's more, the number of passports issued in the US has continued to climb year over year since 2011, climbing by around 1 million.
Just recently, a report from IBISWorld shed some light on the current state of the US travel market, providing a number of interesting insights.
A Look at the IBIS Report
A recent report from IBISWorld detailed some very interesting US tour business insights. Interestingly, the organisation predicted the total revenue from 2010-15 to stand at US$6.8 billion, increasing 3.1 per cent over the period. The research firm estimated that the sector will grow 3.5 per cent from this year through to 2020.
IBISWorld noted that, while the industry was certainly seeing high competition among operators, rebounding travel rates meant it was "continuing to gain altitude".
"The Tour Operators industry has grown over the past five years, benefiting from improved disposable income levels and a strengthening global economy," IBISWorld explained.
"As unemployment steadily declined and consumer spending grew, both domestic and international trips taken by US residents increased, driving demand for tour packages assembled by industry operators."
Now, this means there's significant opportunity for tour operators either looking to get started or expand in the space.
How Tour Operators Can Continue to Gain Altitude
Starting a business can often prove a challenge, especially in the travel space. However, it's a different story altogether to ensure it continues to grow and remain profitable. So, to borrow the analogy from the IBISWorld report, how can tour operators ensure their businesses continues to gain altitude?
Well, getting the areas you won't usually think about in order is a great start. I'm talking about using specialized travel agency software. It's back-end software that makes it easy to manage everything from tour bookings to generating useful financial reports.
Interested? Reach out to learn more. Software's only going to become more useful over the next few years.