Heading to one of the major Australian cities is a popular holiday choice for many of us in this part of the world. For Australians, it means a chance to check out a big metropolis, and for those living in other parts of Southeast Asia, it's an opportunity to check out a different way of living.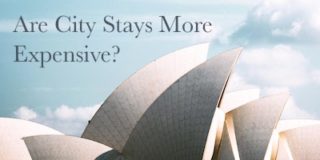 Of course, jumping on a plane and flying across from New Zealand is also a favorite Kiwi pastime. For those in charge of running tour companies, however, it's a good idea to understand how the costs of holidays to these major cities can impact consumer decisions.
Capital City Stays More Expensive Than the Regions
Recently, Roy Morgan Research released an interesting report on the average cost of capital city holidays. In June of this year, the average price of a trip to one of the cities was AU$150 per night! Unsurprisingly, Melbourne ($197) and Sydney ($197), managed to pick up the highest bills, thanks to their size and popularity.
Following these two giants, Hobart came in at $186, with Perth following closely at $178. A night in Adelaide set people back $165, and Brisbane was $158. Lastly, a trip to Canberra would cost $151 a night.
"With their countless cultural, culinary, sporting and retail attractions (not to mention more expensive accommodation options), Australia's capital cities tend to offer the visitor more opportunities to part with their hard-earned dollars than smaller, regional holiday destinations," said Angela Smith, a group account director for Roy Morgan Research.
"While the fact that Sydney and Melbourne are the most costly capitals is not especially surprising, Canberra's distinction as our most affordable capital city is quite unexpected!"
She explained that even though it's cheap to visit, Canberra has a great dining scene as well as world-class museums and activities, so it's worth visiting while it's still cheap.
State capital cities in most countries tend to be the most expensive areas to visit, but for many, the culture and activities are worth it. It's usually a good idea to stay for at least a couple of nights when you're passing through the region!
Angela Smith finished by pointing out some other locations many travelers are likely to miss.
"Destinations such as Darwin and Port Douglas generally give the capital cities a run for their money in terms of average cost per person per night…"
While hitting up one of the major Aussie cities is certainly not easy on the wallet, they're often the gateway to really exciting adventures in the surrounding areas. To make booking such holidays easier, get in touch with TourWriter to learn about capable tour software.