Our Night at the Technology Oscars
Whilst not as glitzy, it was certainly just as (almost) prestigious. Tourwriter made the Deloitte Fast 500 list for 2012 and our MD Glenn Campbell was presented with an award at Deloitte House, Wellington.
We are ranked the 354th fastest growing Technology company in the Asia Pacific Region. Whilst there is always room for more growth, we are very proud of making a list that includes big NZ companies such as Xero, Powershop  and 2Degrees Mobile. Not to mention large Asia Tech companies like ProCrystal Tech and VIPShop Holdings.
The awards were presented at the Deloitte Boardroom overlooking Wellington harbor, during an awards function that brought together award winners from Wellington and Christchurch.
After an introduction from Deloitte Wellington Chief Executive, Thomas Pippos, we were entertained by Amy Adams, the current Minister for Communication and Information Technology who then presented the awards.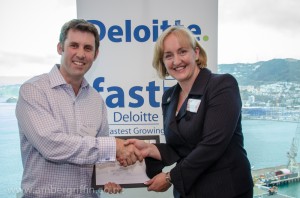 It was inspiring to sit in a room with 18 of the 500 fastest growing Technology Companies in the Asia Pacific Region. Wellington is certainly living up to its Creative Capital reputation when our relatively small population of 400,000 can create so many successful Tech companies.
Whilst we aim to continue our impressive growth over the coming 12 months,  our focus is also on strengthening systems to ensure clients continue to receive the user-friendly product and service that has made Tourwriter so popular for small to mid-sized Tour Operators.
We are well aware it is all too common for fast-growing companies to lose focus on their most important assets, their customers.