We all know that heading to a new holiday destination can be exciting as it brings with it the possibility of a new adventure, but there's no denying the appeal of returning to a favorite holiday spot.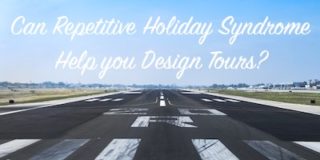 Successful Tour Operators Sell Tailor-Made Itineraries Again and Again
While tour operators love to promote new and exciting tours and destinations some of the most successful tour operators sell itinerary destinations again and again. According to studies I've recently found, there is a strong trend among many travelers. Instead of planning big new adventures in different parts of the globe, many are likely to opt for familiar locales. The research could simply indicate that tailor-made itineraries aren't for everyone or could explain how tailor-made travel companies could use personality modeling to make tailor-made travel appear more familiar to buyers.
Aussie Holiday-Makers Favor Trips to Previous Destinations
Roy Morgan Research discovered that in the 12 months leading up to September, almost 13 million Australians over the age of 14 took at least one holiday. However, 2.8 million of this group went somewhere they'd been in the past.
"There's something to be said for multiple holidays in the same place: they allow the traveler to get to know the destination (and possibly some of the locals) and feel less like a tourist," Group Account Director at Roy Morgan Research Angela Smith explained."Our latest data shows that more than one in five Australian travelers opted to take the familiar route rather than the path less traveled on their last trip, returning to a previously visited destination."
Down Under, Roy Morgan found the Northwest Coast of Tasmania came in as the destination with the highest proportion of people who planned to return for a holiday. There are certainly good reasons for returning to a destination you've visited in the past, but there's also an opportunity for tour operators.
"With a detailed understanding of the kind of person who holidays in the same destination more than once, tourism operators, car hire businesses and holiday rental companies will be better placed to build relationships with these travelers, benefiting both parties in the long term…" added Ms Smith.
Interestingly, with a little more research I found that Australians aren't actually the exception here, but more like the rule. Let's go further north where another population of people love to head back to favorite destinations.
British Travelers Also Favor Repetitive Holidays
Showing that travel habits are likely tied to human nature, a study from Staysure in the UK found that nine in 10 Britons suffer from so-called "Repetitive Holiday Syndrome", in that they'll more often than not opt to return to a favorite holiday spot. Interestingly, one in five will also return to the same spot within 12 months of a first visit, and 41 percent said they would never tire of the same spot.
Why? Primarily, the respondents said that food, weather and travel times were the main factors, along with the possible anxiety of paying to go on a trip and then ending up regretting it.
One respondent, seemingly summing up the thoughts of return travelers, explained that:
"I've been to Playa Blanca in Lanzarote 25 times in the past 18 years – my husband and I absolutely love it. We tend to stay in the same hotel and are even on first name terms with the waiters in our favorite restaurants. It feels like we're going to a home from home, and we've made some brilliant friends as a result."
Countering this, another survey respondent said:
"I try to avoid going back to the same destinations, as the way I see it, I've only got a limited number of holidays left in my lifetime – why waste a trip going somewhere I've already been?"
These habits show there's something here for tour operators, but it's going to be important to think carefully about the right solutions.
Creating Great Tours
Firstly I want to make the point that with the correct marketing, pricing and back office systems small travel companies can be profitable focusing solely on tailor-made travel.
There is a market for small travel companies to resell popular itineraries again and again within a tailor-made framework.
With Australians and Britons set to continue returning to places they've been in the past, I think there's a real opportunity here for tour operators to set up and continue offering popular packages.
How? Using specialist tailor-made itinerary software will automate your back office systems and allow you to create customized itineraries in seconds. Reach out to me if you want to learn more about what this software can do for you, as well as your Aussie travelers keen on returning to popular destinations!