What draws travelers to choose certain cities? I actually found one of the key attractions is a theme-park. With more countries making these amusement centers bigger and better than ever before, tour companies would do well to include them as part of an itinerary.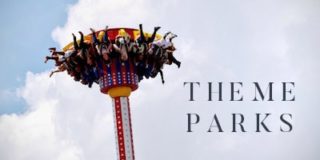 Of course, this requires having the right travel software booking system that can understand tour companies operate, as well as organize the needs of your clients.
Aussie Travelers Love Theme-Parks
According to the latest analysis from Roy Morgan Research, more than half (55 percent) of Australian tourists visited at least one theme-park on their last trip. While Australia itself has some prime entertainment spots, such as Luna Park and MovieWorld, 45 percent of these travelers did so while overseas.
The United States (US) led in terms of theme park hot spots, gaining 33 percent of Australian visitors. However, I noticed other key travel spots were also linked to amusement parks, including Japan (15 percent) and Singapore (12 percent).
Roy Morgan Research Group Account Director Angela Smith explained that the vast number of entertainment parks globally attracts many travelers to certain destinations.
"Our data shows that folks who went to a theme park on their last trip are considerably more likely than the average overseas traveler to have gone to the US, Japan, and Singapore – all of which are renowned for their world-class theme parks," said Ms. Smith.
"Overseas theme-park travelers appear to be a lucrative market, and offer a golden opportunity for savvy tourism operators and travel agencies to tailor their marketing communications so as to encourage this special breed of holiday-maker to really enjoy every aspect of their chosen destination."
How Long Can the Us Keep Its Top Spot?
As I noted previously, the US continues to be a popular travel destination. The International Association of Amusement Parks and Attractions (IAAPA) estimate it hosts over 400 amusement attractions, including impressive global draws such as Disney World and Universal Studios.
According to the 2011, Amusement Park State of the Industry Survey, a quarter (25 percent) of respondents had visited a theme park within the last year and a further 43 percent stated they intended to visit one within in next 12 months.
Furthermore, I found that US theme parks led to an overall economic impact of USD$55.4 billion in 2011, indicating that tour companies could profit from these destinations.
After doing some more research, I noted that more recent figures mirror these findings but indicate other nations are catching up to the US.
Keeping an Eye on Global Amusement Park Growth
Statista ranked the 25 amusements parks with the most visitors and Walt Disney World's Magic Kingdom took the top spot, with an overwhelming total of 19.33 million visitors in 2014. However, tour companies should take notice of Tokyo Disneyland which came a close second with 17.33 million visitors.
Moreover, two other colossal theme parks in Japan were included in the top five, Tokyo Disney Sea and Universal Studios.
Insight from the Themed Entertainment Association (TEA) and AECOM's 2014 Theme Index and Museum Index also suggests tour companies take note of the growth of theme parks in Asia. For those who operate a tour & travel company, I would also recommend ensuring any travel agency booking system is taking these attractions into consideration.
"The industry continued its post-recession attendance growth at a healthy rate of 4 percent for the top theme parks globally," said John Robinett, AECOM senior vice president, economics, Americas.
"That growth reflects a post-recession rebound in all regions: Europe at 3 percent, the Americas at 2 percent and Asia at 5 percent."
Incorporating theme parks into the tours you offer can make your business stand out. Of course, you will need an efficient way to manage bookings. Get in touch with me if you have any questions about how your travel company can make the most of these trends!