Golf Tourism is a growth market for holiday travel and it is becoming more competitive.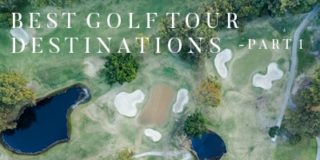 Any time of year is a great time for golfers to pack their bags, grab their clubs and catch a flight to some of the best courses around the world. As more golf tour operators enter the market existing operators will need to focus on profitability to stay ahead. Quote, conversion ratios are an indicator of success (and this isn't unique to golf tourism btw) and incorporating new destinations and accommodation options into your itineraries can boost sales.
The 2016 International Association of Golf Tour Operators (IAGTO) Awards can offer some inspiration. Five locations around the world have been named as top destinations in 2016, so golfers can hit the links in nearly every corner of the globe.
North America – Hilton Head Island
South Carolina's Hilton Head Island offers golfers a veritable oasis for the sport with 24 public courses, some designed by premier architects like Jack Nicklaus, Robert Trent Jones Sr., and Pete Dye. This subtropical Atlantic island is the setting of over 700,000 rounds of golf each year, including the annual RBC Heritage stop on the PGA Tour played at Harbour Town Golf Links.
"PGA Tour professionals chose Hilton Head Island and the RBC Heritage as one of their favorite stops on the tour and we're proud of our reputation as a leading golf destination. What sets Hilton Head Island apart is not only our long-standing tradition of golf, but the unique environment in which we play the game," said Bill Miles, President & CEO Hilton Head Island-Bluffton Chamber, and Visitor & Convention Bureau.
Latin America and Caribbean – Dominican Republic
A three-time winner of this award and home to the largest number of courses in Latin America and the Caribbean, the Dominican Republic is an oft-frequented destination for international golfers. According to IAGTO North America, over 140,000 visitors to the Dominican Republic in 2014 traveled to the country exclusively for golfing. The sport contributes more than US$200 million each year, and it experienced 10 percent market growth in 2014.
Isabel Vasquez, director of the Dominican Republic Ministry of Tourism for the Iberian Peninsula, attributed the award to the country's first-rate service and facilities at its 28 golf courses, 68 ocean-view hotels, and other tourist facilities. With its tropical setting bordering on the Caribbean Sea and the Atlantic Ocean, the Dominican Republic offers golfers an experience that isn't to be missed.
Are You Spending Too Much Time Building Your Quotes?
Tour companies focusing on golf tour vacations have a lot to juggle, especially when it comes to international destinations. If you find yourself investing so much time in preparing quotes (glossy word documents are very time consuming) and not enough time sourcing new innovative products then beware your competitors.
Having the right back office travel software can ensure that all aspects of a trip operate smoothly, leaving clients free from worrying about everything other than staying under par.
Tourwriter can even help golf tour company owners spend more time on the course themselves!