What the future holds for safari tour operators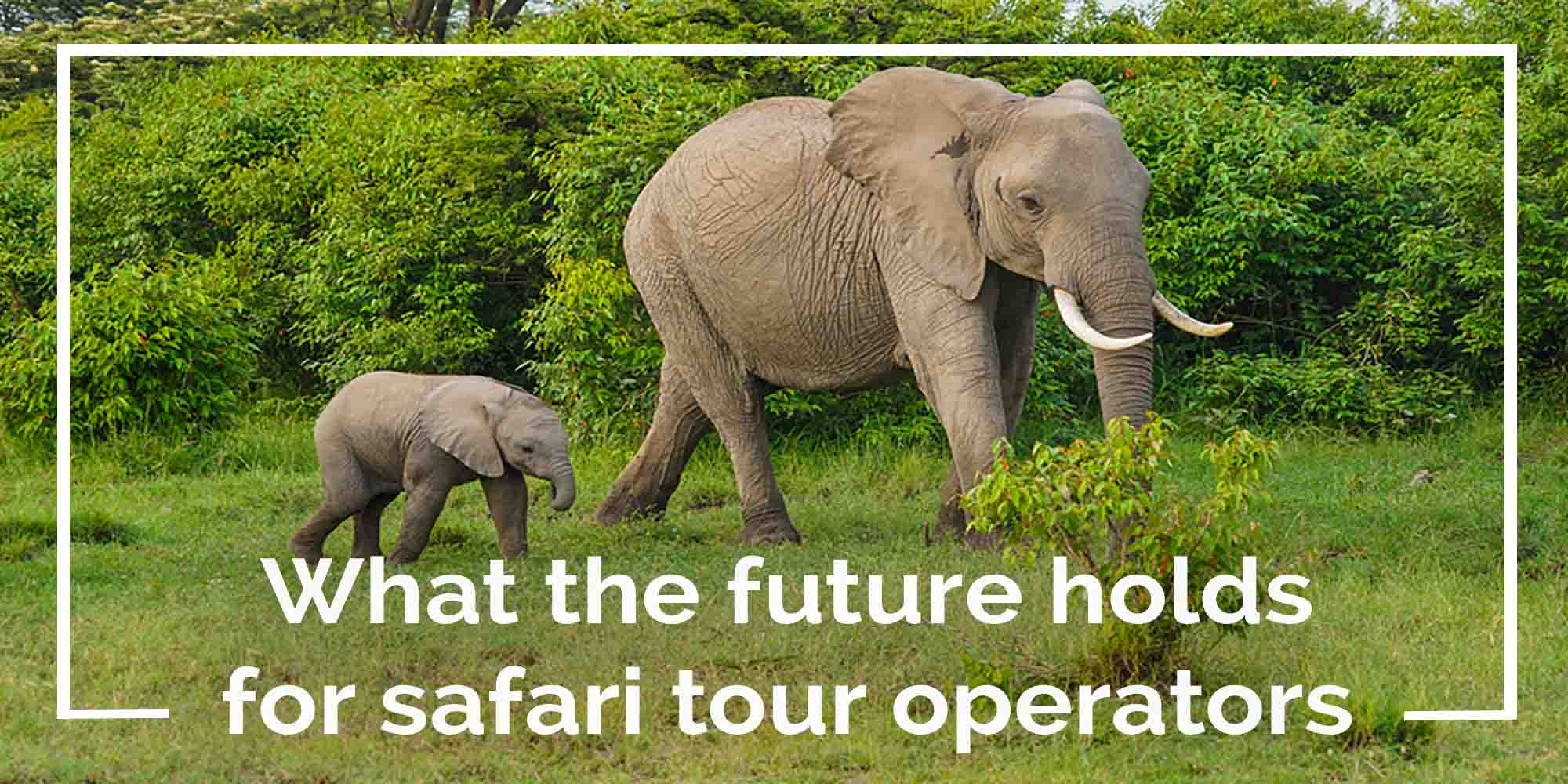 Kitted out in khaki, cameras at the ready and aboard an open-sided Land Rover, tourists are enthralled by the adventure of spotting African wildlife in its natural habitat. From observing elephants, zebras and crocodiles to leopards, wild dogs and hornbill; for many, going on safari is an opportunity of a lifetime.
Drawing large crowds of international visitors who dream of visiting African reserves, the resoundingly popular segment of the tourism industry has been one of the hardest hit by the COVID-19 pandemic. Recording a drop of up to 75% in bookings because of border restrictions, safari tour operators are feeling the pinch. While it can be easy to get bogged down in the negatives (perhaps this is an understatement for 2020?!), it is definitely not all bleak for African safari tour operators as they are in a great position to bounce back from the pandemic once travel resumes again.
This blog looks to underline the promising characteristics of safari tourism that will restart and rebuild the industry in Africa. They say that 'an elephant never forgets' and we think that this mentality is central to the approach that safari tour operators should be taking in a post COVID-19 world; never forget the potential, success and popularity of the industry, your optimism will drive its growth.

For now, we are waving goodbye to group travel and mingling on holiday. Sadly, the risk that comes with expanding our bubbles on holiday is far too great for the global community. With it being likely that people will stick to their 'bubble buddies' as a way to slow the pandemic and reduce the risk of personal exposure to the virus, the remoteness that a safari offers truly makes it the perfect holiday option.
As travellers demand care and consideration towards social distancing, safari tours have the flexibility and capability to confine single groups to individual Jeeps. Showcasing African wildlife in remote savannah destinations, the wide open-aired spaces are entirely conducive to these new traveller expectations. Offering a greater level of certainty than self-guided travel, these safari tours promise isolated locations and stamp out any possibility of encountering a crowd.
A study completed in the United States of America showed that 55.7% of respondents plan to avoid crowded places on their next holiday, reinforcing the popularity for this kind of travel. Not only is this a big advantage for safari tour operators in the wake of COVID-19 but it also aligns with travellers' growing desire to centre their holidays around reconnecting with nature. With technology encroaching on life and a greater appreciation for the outdoors existing after lockdown, people are looking to inject their money into outdoor experiences.

While international travel may have been paused for now, people's aspirations and enthusiasm for holidaying has been far from curbed. Given the time to reflect on life goals, favourite trips and holidays not yet taken, many passionate travellers have been reassessing their dream destinations and activities as the pandemic grips the world. Perhaps spurred on by people watching reruns of Lion King during lockdown (even if they won't openly admit it!), or simply that Africa is a highly sought after destination, the idea of taking a safari in the African continent has skyrocketed in popularity in recent times. Safari tour operators have even noted that the upcoming 2021 season is filling up quickly with sizable 'pent-up demand' existing from international markets after this lengthy no-travel period.
To add to this, the fact that safari specialists are clear on their value proposition and product offering, gives them clear future advantages within the niche tourism subset. Revolving around a specific area of interest, niche tourism is all about creating customised and tailored experiences for travellers who demand an authentic and memorable trip.
Predominantly from overseas, these travellers are highly invested in taking a safari and are likely to be more affluent. This willingness to spend a bit of extra coin on holiday, signals that not only do these tourists expect their experience to match their high expectations, but they will be pivotal in paving the way for the safari industry rebound.

In the past, the travellers that made up this niche market were largely over 60 years of age, foreign, retired and not as concerned with the price tag of their trip. As the safari industry has diversified and become a more viable, customisable option for others, the typical target market for this niche has grown. While their client base remains in the luxurious, wealthy market; the age group and demographic present is shifting. For instance, Business Insider has noted that Millennials who have worked their way up in the tech space, are now a huge potential target market for this industry.
This target market diversification will fuel the future success of this tourism segment. African travellers that have been unable to fulfil their 2020 travel plans, particularly those from South Africa, are also expected to help with the rebound, adding greater resilience to the sector.

If you were to Google 'what is the best time to go on African Safari?' it is clear that personal preferences very much dictate the online responses and that the different months offer something for different people. No matter what the season, safari tours are perfect for the innately adventurous all year round with a mix of game and bird viewing, along with hatching and migration, on offer. With the exception of Madagascar, Mauritius and Mozambique during their cyclone season in January-March, a safari holiday is said to be possible across Africa at any time of the year. This fact alone makes safaris all the more accessible when international travel resumes.
For this niche sector, monitoring, preparing for and navigating the return of tourism in Africa will hopefully be smoother due to the absence of considerable seasonality. To capitalise on this, safari tour operators should be clearly communicating that they are a year round offering in their marketing material.

Set to prove beneficial in its recovery from COVID-19 is the safari industry's extensive influence which reaches far beyond tourists and travel. Most significantly, the efforts of safari tour operators has had a positive impact on reducing animal poaching across Africa. Considered to be a pressing issue for the continent, whereby approximately 96 elephants are killed each day for trade on the black market, operators ensure that the poaching trade is under constant scrutiny. By inviting local and international visitors who are concerned with the wellbeing of the native African wildlife, worldwide awareness and interest in preserving these endangered species, heightens.
Prior to COVID-19, the collective industry of safari tour operators and customers played a key role in promoting anti-poaching behaviour, regulating the industry and communicating the importance of conservation in safari reserves. However with a worldwide lockdown, the fight against poachers was sadly halted and the need for these touristic activities highlighted as poaching numbers grew.
With a percentage of national park fees and safari admissions being fed back to conservation efforts in these areas, the return of safari tour operators' business will benefit not only the operators, and surrounding tourism areas, but will also increase protection for the animals. Global interest in protecting these vulnerable animals will undoubtedly help stimulate the rebound of the safari industry.

Going hand in hand with conservation is social responsibility. Following the rise of the internet and social media, a greater awareness for humanity's control and influence over the natural world has emerged. While tourists are still obsessed with documenting their every move during their holiday and gaining validation from online peers, individuals are also increasingly conscious of their carbon footprint and how they can spread awareness and give back to an area they are visiting on holiday.
For many, the pandemic has also offered time to reflect on personal morals. Tourists no longer simply crave a holiday, they expect a fulfilling and rewarding experience; the pandemic is likely only going to heighten these trends. This is particularly true of the luxury, affluent traveller market who search for genuine engagement on their eco-holiday, wanting to do some good in the local community and importantly receive the personal gratification for these actions.
Although a traveller may be triggered to book their holiday because of their strong desire to experience a safari, secondary planning may involve teeing up volunteering opportunities with the local community and wildlife, or securing more longer term internships. As is the case with safari tourism's power over conservation and anti-poaching goals, the social conscientiousness that is fostered among these tourists further extends the monetary, behavioural and community impact of this niche tourism on Africa.