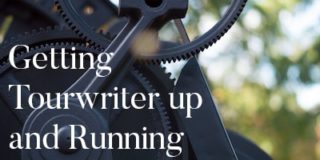 What's involved in implementing Tourwriter travel management software?
Installing Tourwriter
Before starting implementation, we make sure that Tourwriter has been installed on at least one computer, for obvious reasons. Usually, this has happened already, as most of our clients take advantage of our free trial and have a play with Tourwriter before deciding to go ahead. The account manager (the person who sold you the Tourwriter software and made you all those promises about how it will change your life) now hands over to the implementation team.
How Long Does It Take?
We allow three months to implement Tourwriter into your business. Some things can (and need to) be done fairly quickly, while other areas are quite labour-intensive and may take longer. There's no fixed timeframe – the amount of time it will take you to get Tourwriter fully up and running will directly relate to the time and resources you can devote to it. The orange boxes in the diagram relate to the tasks that are the responsibility of the client, and as you can see, there are quite a few of them. Some of them are critical – that is, implementation cannot proceed until those tasks have been completed. But don't worry – while it may look daunting our implementation team are there to walk you through it, answer your questions and make sure things keep moving along.
The Implementation Schedule
Once you're all set, you'll have your first training session where you will be talked through the Implementation Roadmap, expectations, roles and responsibilities. You'll also receive your Implementation Schedule, a document which will help you (and us) keep track of your implementation, make sure we've covered everything, and capture any questions you may have as the process unfolds. The Implementation Schedule also contains links to all the training documentation (videos, webinars, guidelines) you may need, as well as to recordings of your training sessions, so you can go back and review these if you need to.
Setting up Your Travel Management System
Setup training may take place in your first meeting or at a second session shortly thereafter. This is a crucial session where we cover the basics you will need to get your database working the way you want it to. We'll spend time on lists – extremely versatile functionality where you can customize many of the categories and fields in your database. You'll be given all the tools you need to then spend time setting your system up and running the way you want it. We'll also look at things like the locations and currencies you work with, to make sure these are loaded correctly. (Incidentally – to save time, it's helpful if you've thought about this prior to beginning implementation – see my previous blog post on First Steps)
Suppliers Training
Once the setup has been taken care of, we'll cover training in the Suppliers area of Tourwriter. This looks at how you load suppliers and rates into your database. At the same time, we can start actually loading your database. Every Tourwriter client gets a certain number of database loading hours when they sign up. This should be enough to load at least a few of your key suppliers so that you can get started on working with itineraries and bookings. Basically, the plan is that Tourwriter will use the allocated amount of included database loading hours to input as many of your supplier contracts as possible. At the same time, we'll train you so your team can then start loading the rest. We also offer the option of purchasing extra database-loading hours, if you'd prefer us to handle more of this – perhaps you're anxious to get all your suppliers loaded by high season, or perhaps you just don't have the manpower to load all your suppliers yourself. We can work together on ways to ensure your database contains all the information you need.
Loading Your Supplier Contracts into Your New Database
In order to ensure our database loading team know exactly what information you want to be loaded, we provide you with a Product Loading Schedule. This is a document we share which outlines your requirements, any particular things to note, and any feedback or comments from us. As soon as we've received the completed Schedule from you, we can start loading. The process continues at the same time as the rest of your training is delivered, and it's complete when you sign off the Product Loading Schedule to say that you're happy! Loading supplier contracts can be extremely time-consuming, as (obviously) it's so important to put the information into the database correctly so it behaves properly when you're costing your itineraries. The process can be facilitated by thinking carefully about what services you need to be loaded. Some supplier contracts may have loads and loads of different products, with various options. There's no point in spending hours loading all the different options into your database if you only ever book one.
Creating Really Special Itineraries and Travel Documents
The other really crucial part of your implementation and training is Publishing (also known as Reports). Reports is the term we use for all the documentation you create with your travel management software – for example, quotations or final itineraries. We generally work with you to create your most comprehensive document (often a final itinerary) first, and then we can use that as a basis to create other documents as needed. For example, a final itinerary will have confirmation numbers and contact details for the hotels you have booked; a quotation may not, but it will contain costs. We can create whatever sort of document you need – for example, some of our clients want specially formatted contact lists or vouchers. As with database loading, when you sign up with Tourwriter you get a certain amount of report building (or development) hours included with your setup package. This is typically enough to develop two reports. Extra packages are available depending on your requirements.
Also like database loading, the process of creating your travel documents can happen at the same time as the rest of your Tourwriter training. It requires a team approach – you tell us what you want, we 'scope' the document, create a sample and send it back to you, you test it and advise of any changes, we tweak it… It's a process which works best when you are able to send us your 'example' document(s) early on, so we have lots of time to work on it together and make sure it's perfect. I'll devote a whole future blog post specifically to publishing, as there is lots to tell you about that!
Other Training Resources
As well as your one-on-one training sessions with your implementer, we have training videos and webinars available on all your key areas. You'll have the links to these in your Implementation Schedule, and will be required to view these as part of your training.
Working together for a successful Tourwriter implementation
I am a little bit excited about our Implementation Roadmap, and (at the risk of blowing my own trumpet) I hope you'll agree it is a perfect example of modern design – attractive, yet functional (a bit like the people who work at Tourwriter!). Most importantly, it shows you very clearly the process that will take place to get Tourwriter up and running in your business. As you can see, it's a logical, collaborative process which, if both sides do their bit, will ensure your new travel management software is adding value to your business in no time.