The future of bike tourism in 2021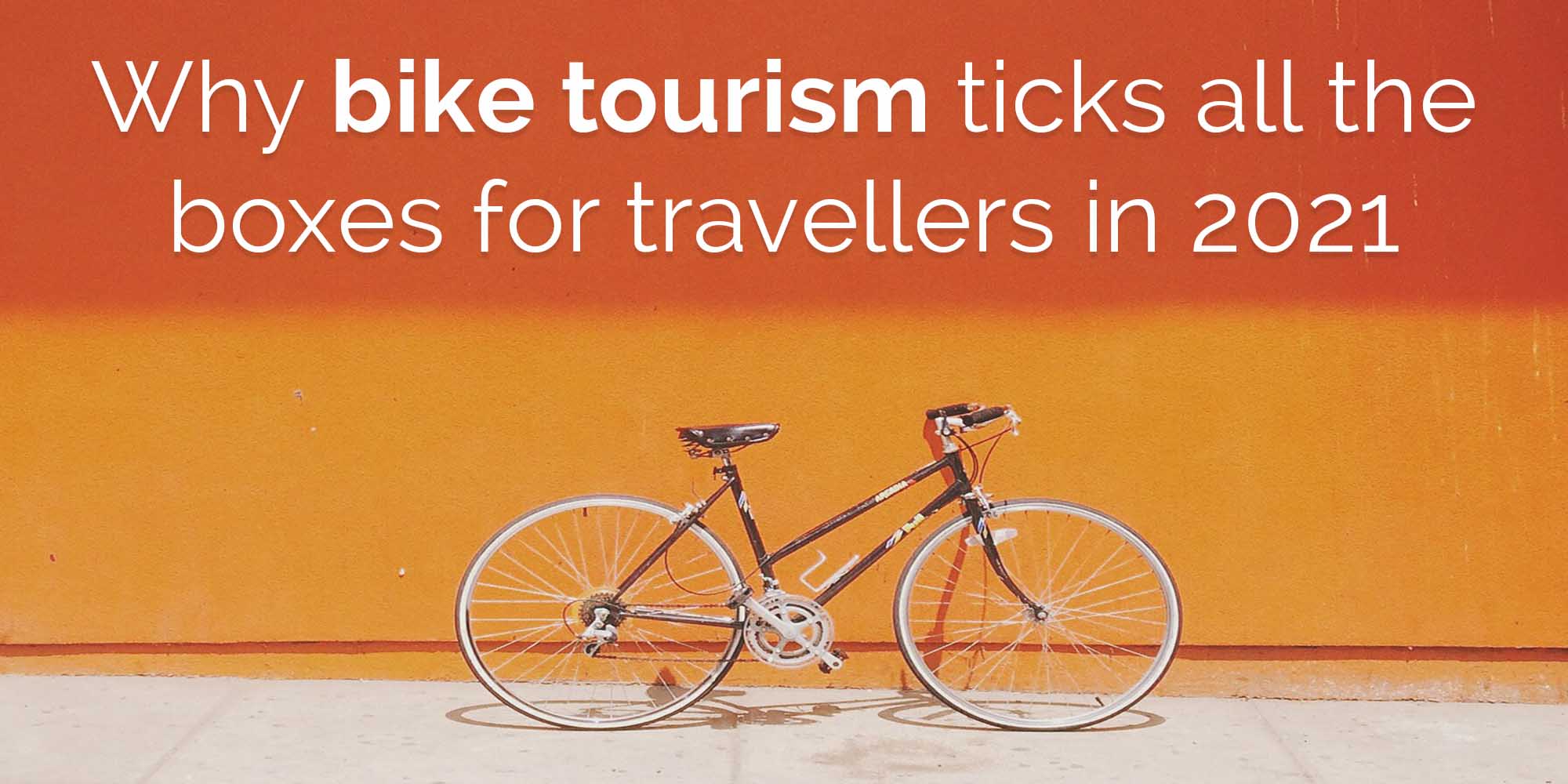 Using the word resurgence to describe the recent growth of cycling, is a mammoth understatement. People the world over have been taking to two wheels in their droves this year as the coronavirus pandemic has triggered evaluation of individual lifestyles and priorities. While it can be seen as a mode of transport for daily commuters, biking or cycling is also a leisure activity that translates extremely well to the tourism industry.
With a new appreciation for the outdoors following extended lockdown periods, biking not only offers individuals treasured freedom but it adds to the list of sustainable habits that our global community needs to be adopting. The value that people are placing on this privilege of being in nature, is evident with the unprecedented bike shortage that is currently plaguing the whole world. Predicted to continue well in 2021, and potentially as far as 2022, the sheer demand for bikes in recent times has caused a massive rethink of the international supply chain as suppliers cater to interest.
Prior to 2020, the cycle tourism sector in Europe alone was valued at €44 billion. Although numbers are not yet out on the current state of the niche, the fact that biking falls into the health and wellness sector, is perfectly aligned for the domestic tourism market, has many sub-sectors, appeals to young and old along with experienced and inexperienced riders, we anticipate further growth for this sector. Having stood the test of time over the years and proving to be extremely resilient during an international pandemic, bike tourism ticks all of the boxes for a niche that is set to thrive in coming years.

While cycle or bike tourism is a travel niche in its own right, its connection with fitness means that it falls nicely into the wider health and wellness tourism niche. Valued at US$641 billion in 2019, health and wellness tourism is driven by "people interested in maintaining a wellness lifestyle on the road." Although the mention of health and wellness might bring forward thoughts of spas and hippies, this traditional view is far from the modern day definition of this expansive travel niche. From spiritual experiences, yoga, meditation and pampering to beauty treatments and sport and fitness, the health and wellness segment is all about self-awareness and regeneration.
It is noteworthy that the entire international wellness tourism market is predicted to grow by a further US$315 billion in the next four years despite COVID-19 drastically disrupting travel movements. While other tourism segments may not necessarily rebound and grow at such a significant rate, this projection largely stems from people's recent commitment to fitness habits, healthier lifestyles and wellbeing during global lockdowns. After being confined to the same four walls and company for an extended period of time, the pull for adventure and nature has become stronger than ever for most. Add this to the fact that an increasing number of people are taking on office based jobs; bike tourism is perfectly positioned to offer the escapism that so many have been dreaming of throughout 2020.
More than ever, health, and in particular biking, will be seen as a personal investment from 2021. Another big tick for bike tour operators and the specialised niche.
While many of us hope that our cravings for adventure and novelty will disappear with a click of our fingers (at least while international travel is largely off the cards), tourism has become so ingrained in our way of life that it is very hard to pause the mentality of continuous trip planning. Although COVID-19 has rocked the tourism industry in a major way, the world's slow recovery from the pandemic has given way to strong feelings of nationalism as people accept the reality that if they want to travel, they are likely to have to do it locally.
Cognisant of the need to drive the economy, spend locally and support small businesses, travellers are wanting to get creative with their domestic travel. Answering the call from aspiring tourists for new experiences and excitement during travel limitations, bike tourism has come to the rescue. Not only is biking seen as a safe way to travel in the wake of pandemic, but it is also a slow paced travel option and ticks all the boxes for discerning domestic travellers in 2021.

Indicative of its popularity, councils and governing bodies around the world have been quickly trying to adapt to a world with heavier bike usage. Being a safer way to travel than public transportation with the risk of infection still great, cities have been trying to keep up with the growing demand from cyclists. From dedicated bike lanes and reduced speed limits to bike purchase subsidies, bike share options and speciality parking, infrastructure and resources have had to be put in place in recent years to cater to the growing number of bikers.
While many of these changes, such as Paris' promised subsidy of up to 500 euros for those investing in an electric bike, have come about as alternatives for daily commuters, the permanent changes will also feed into the domestic bike tourism movement. With sturdier infrastructure on hand, the safety and quality of bike tourism will be greatly improved – ticking even more boxes for discerning bike tourists.
As a result of all this investment, cycle trails which link touristic towns and destinations have also been the focus of planning efforts and financial investments in particular countries which will improve the experiences that tourists have while on their bikes. For example, in 2016 New Zealand's Government committed NZ$25 million to improve and extend their national cycle trails for the purpose of tourism.
On the other side of the world, Greece has been investing time, money and resources into meeting the needs of cycle tourists in an effort to jump on the biking bandwagon. Their commitment to the tourism niche is evident with thought even being put into cycle-friendly certification. All too aware that cycle tourists crave variety while on holiday, and will be happy to spend money on other activities and amenities, Greek planners have been looking into what sort of criteria and certification could be put in place to identify which local businesses (accommodation providers, stores, amenities etc.) are equipped and happy to welcome cycle tourists.

Not only does biking fall under the profitable health and wellness sector and have a huge amount of resources being invested into it to cater to the rise of domestic tourism, but it has an abundance of diversity and options for travellers. Whether individuals choose to dabble in the likes of road cycling, mountain biking or e-Biking, cycle tourism has many different avenues (all sustainable!) which will contribute to its great success. One sub-niche that is contributing to successes more than others at the moment, is bikepacking.
Generating a huge buzz within the industry and further afield, bikepacking is pegged as the industry's next best thing. Seen as something that will further revolutionise the cycle tourism industry, bikepacking gives a newfound freedom to participants as it is a hybrid between mountain biking and minimalist camping. Ticking the box for multi-day adventures, 'off-the-beaten-track' experiences and adhering to a minimalist lifestyle, this sub-niche appeals to those that are sick of the monotony that traditional cycling may bring.

We all know that money makes the world go round, and from a bike tour operator's perspective the two revenue streams that this niche market offers certainly helps them in the long run. Primarily generating income from the tours that they design, market and offer to tourists, bike tour operators also have the flexibility of being able to hire out their specialised equipment. Even if tour operators aren't able to fully capture potential tourists through their tour offerings, there is a good chance that out of town tourists will need to hire quality gear to be able to self-guide their rides.
Whether each operator chooses to do this all year round, or simply when their touring times are quieter, the possibility of dual income can help to reduce initial investment costs and increase profitability.
In our minds there is no question that bike or cycle tourism will continue to thrive over the coming years. Offering tourists newfound freedom in this crazy new world of pandemics, flu vaccines and closed borders, the outdoor activity ticks the boxes for health and wellness, favourability within the domestic travel market, investment injections, sub-niches and dual income potential. So if you haven't already given it a go, grab a bike and discover for yourself why it is all the rage!