Tourwriter is now a proud member of ETOA, the European Tour Operators Association, joining in late 2014.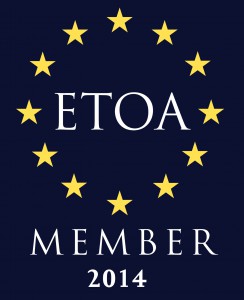 ETOA is the leading trade association for tour operators and suppliers with business in European destinations. Over 700 members contribute more than €12bn of business within Europe and include tour and online operators, intermediaries and wholesalers; European tourist boards, hotels, attractions and other tourism suppliers.
The Tourwriter team noticed a number of clients were also members of ETOA and they have spoken highly of the organization. The hope is we can work closely with the ETOA team to strengthen our European relationships particularly as we continue to invest in resourcing our European based team.
Dennis Brown, our European Business Development Manager, based in South West England, is focussed on contacting as many members as possible over the coming months.
The travel software market is continually evolving and Tourwriter aims to continue meeting the emerging needs of the Tour Operator community. We are excited to hopefully partake some of the ETOA initiatives on offer including the Showcase.travel Digital workshop and their booth at ITB.
Will you be attending either event? We would love to meet with you so get in touch now.