It's not really a surprise that with our more active lifestyles, we'd start to see an increase in adventurous holidays around the world. Tour companies everywhere will have seen first hand just how many people want to include whitewater rafting, bungee jumping and hiking as part of their vacations.
Rise of Cycling Starting to Influence Holiday Preference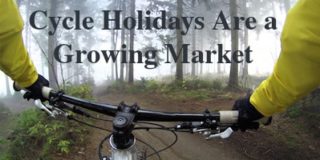 Recently, Roy Morgan Research took a look at the holiday habits of those people who love to jump on a bicycle and get around town. They found that around 19 percent of the Aussie population now ride a bike either on a regular basis or more occasionally, and it's even starting to influence their holiday preferences!
Regular cyclists are more likely than the average Australian to point to certain destinations as holiday locations. These people were 140 percent more likely to choose a South Australian destination as other people, and 119 percent more likely to choose the Flinders Ranges.
For anyone savvy on a bicycle, these are choice locations for a riding holiday. You can really get out there and see some great scenery in a beautiful part of the world.
The Group Account Director for Roy Morgan Research, Angela Smith, explained why people tend to choose the destinations they do.
"Just as yoga participants and skiers tend to prefer holiday destinations that allow them to practice their chosen sport, so too do Australia's keen cyclists show an above-average interest in destinations with bike-friendly attractions – several of them in South Australia."
She also said that thanks to South Australia being a biking holiday hot spot, the state may want to change its nickname to something more relevant, for example, the 'The Free-Wheeling State' or 'The Cyclists' State'.
Adventurous Hobbies Closer to Home
I think this points to an interesting trend, as I explained briefly at the top of the article. As we start to take on more adventurous hobbies closer to home, we'll want to put our skills to the test in more interesting locations!
Interestingly, a study on adventure tourism from The George Washington University in the US found that those people jetting off on adventure holidays were more likely to use professional services, whether those are guides, tour operators or even other services.
With bicycles likely set to continue weaving their way into our holidays, those in charge of setting up interesting vacations will no doubt want to make their jobs easier. Itinerary software is just one solution, and it can help tour companies to put together interesting active holidays!
Feel free to reach out to me if you've got any more questions!