Do You Have a Mobile Friendly Travel Website?
If you've been in a foreign city in the past few years, chances are you'll appreciate the importance of easy access to information – whether that's related to a tour you're taking, staying connected to home or even just general directions. The solution is a mobile device, devices that are now everywhere. On every bus, train and street corner people are glued to their smartphones. This is for good reason too, as these tiny devices make it really easy to quickly access information.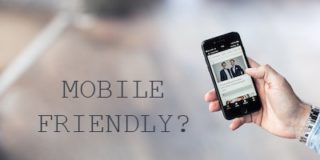 It shouldn't really come as a surprise then that usage of these devices is continuing to grow. Did you know that Gartner (a major research organization) believes mobile data traffic will grow 59 percent this year alone? If that's not a clear sign to think about just why mobile is important, I don't know what is!
Now, with mobile search becoming as common as searches on a computer, tour companies need to have a think about their website, and whether or not their clients can actually do what they need to do without going to a computer.
Think About the Importance of Mobile This Way
If you're looking for travel information on your phone, you'll likely go with the provider who has a better website, as it will be easier to get the information you need. If on the other hand, you come across a website that's difficult to use or just flat out won't work on your phone, you'll find somewhere or something else. This is a major issue. If a competitor has a better mobile offering, what's to stop your potential customers heading over to them?
What Does Google Say?
What if your website was no longer appearing in Google search? The authority on mobile or responsive websites is Google. And what I mean by this is Google (as the boss of all search engines) has decided that websites optimized to display on mobile devices are considered more important than those that aren't. This means mobile websites will rank higher and consumers searching on a mobile device will only receive search results of a website that is mobile responsive… Gulp.
You can read about the release from Google here.
What Makes a Website Mobile Friendly?
There are several good indicators of a strong mobile site, and they are certainly worth taking a look at to see if their mobile site is actually up to scratch.
Simplification: The site should be simple, without a lot of clutter that could confuse visitors or eat into their mobile data.
Mobile Responsive: Their design ensures consistent viewing experience across a wide range of devices from desktop computers to mobile phones and pads without the need to have different website variations.
Information is easy to find: Contact details should be at the top of the page, meaning if that's all visitors are after, the information is readily available.
Mobile will only keep growing, especially if what organizations like Gartner say is true. They found that by 2018, mobile data could actually be more than triple what it is now. Tour companies would be wise to preempt this growth by prepping their tour software and websites so they are up to the challenge.
Online Itinerary and Mobile App
You should also be aware that Tourwriter Online ensures your clients can view their quote or final itinerary online or via a mobile App. It is super easy to push your Tourwriter itineraries online and the mobile App is available as a free download from the App store on both Apple and Android.