Golf Tourism is a growth market for holiday travel and it is becoming a very competitive industry.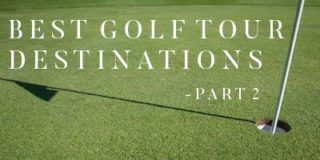 Golf Tourism and Tailor-Made Travel Is a Perfect Fit
With renowned courses worldwide, golf tour operators have a number of options for directing their clients to the best locations to tee off in 2016. In the second part of our look at the International Association of Golf Tour Operators (IAGTO) Awards, we explore the remaining Destination of the Year winners.
Asia and Australasia – Vietnam
Named by IAGTO as the Undiscovered Golf Destination of the Year for 2012, Vietnam has come into its own. With nearly 40 courses and over 60 new ones in planning and construction, Vietnam has a great deal to offer golfers traveling to Southeast Asia.
"Vietnam is truly a unique golfing destination, with so many attributes as a world-class offering. With a plethora of top quality golf courses, as well as such a variety of unique designs, I believe that the future looks very bright for this hidden gem," said Niklas R Robinson, director of sales and marketing for Vinpearl Golf Club.
Africa and the Gulf States – Mauritius
Mauritius offers the chance to golf year-round on a beautiful island of extinct volcanoes and white-sand beaches. Its location in the Indian Ocean makes it an ideal destination for golfers from Europe, Asia, and Africa. Golfers can also see the second annual AfrAsia Bank Mauritius Open, held from May 12 to 15, 2016.
"Through the AfrAsia Mauritius Open, the first-ever tri-sanctioned golf event by the European, Asian and Africa Sunshine Tours, the island of Mauritius has reaffirmed its past role as the key of the Indian Ocean, this time for the promotion of the game of golf on the three continents," said Michael Geerdharry, president of the Mauritius Golf Tourism Association.
Europe – Lisboa Golf Coast, Portugal
With over two dozen courses, the Lisboa Coast near Lisbon is ideal for golfers keen on a European golfing getaway. The town of Estoril is famed for its International Golf Week as well as some of its courses that host the Portuguese Open: the Estoril Golf Club, a 27-hole course designed by Mackenzie Ross, and the Penha Longa Golf Club designed by Robert Tent Jones and located on the site of a 14th-century monastery.
According to Turismo de Lisboa, a non-profit tourism industry organization, golfers can expect more from this region in the future with joint golfing events and a pass that can be used at multiple courses in the area.
These anticipated developments on the Lisboa Coast and at other destinations is likely to result in an increased demand among golf tourists. To help manage more customers, tour operators can count on the right software booking system. Check out Tourwriter to see how it can help your business today.