7 reasons why you should invest in travel software that has business reporting functionality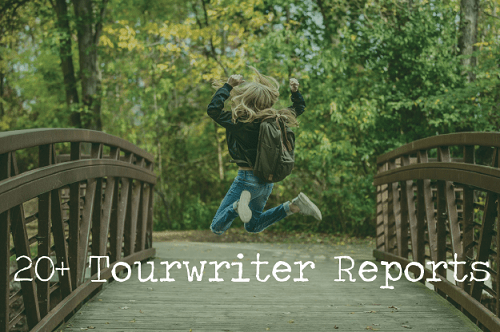 With the announcement that 4 brand new reports have been added to the Tourwriter suite of reports, we thought it was about time we talked about why we think reports rock! These sometimes underrated aspects of your tour operator software can in fact pack a real punch when it comes to providing you and your business with insight and understanding into your customers.
Today we have over 20 reports built into Tourwriter – our team have drawn on their experience in the travel industry to craft some awesomely powerful reports. So whether you're already a converted report-lover, or you yawn at the thought of numbers; have a read through our 7 reasons why you should be using travel software with reporting functionality…you'll be geeking out over all of the possibilities in no time!
1. Know Where Your Clients Are
Knowing where your clients are at any point in time is so important. Travel is a dynamic industry, and we all know that a trip can quickly change due to forces outside of your control (like weather!). Being able to quickly source a report and know who is affected will help you adapt to changes, alert your travelers quickly, and save you a bunch of time in the process.
Client locations reports are a must have in your travel software – not only do they provide you with peace of mind but they open up opportunities for you to customise your comms to your travelers, ensuring they get the most out of the locations they're in at any point in time.
2. Measure Your Travel Agents Outputs
Key performance indicators (or KPIs) are a staple aspect of business, there's no denying it. But recording and reporting KPI's shouldn't have to take up your team's precious time. Having your travel agents live in a hub like Tourwriter means all of the metrics you need to record are being done for you continuously.
When it comes time to access those KPIs, all you need to do is click a button! Easy right?
3. Understand Your Market Better
You may pump out hundreds or even thousands of quotes, itineraries, and bookings every year. It's simply impractical for you to remember all the details.
Your travel software should record important information about your operations so that you can get a snapshot of your sweet spot and dedicate resources to those areas with confidence.
Reports that display your business split by location and service type are great places to start when it comes to segmenting your market.
4. Know Where You Should Be Investing Your Marketing Dollar
Knowing where your leads are coming from, and whether they are inbound or outbound will help when it comes to setting your marketing budget. Source reports help assign your marketing spend to the avenues that will get the most bang for your buck.
5. Keep Your Supplier List Fresh
Some tour operators can have hundreds or even thousands of suppliers on their books. That can make it exceptionally hard to keep your products fresh. Afterall, there could be hundreds of line items that have never been used or are now redundant.
A supplier purchases report gives you a quick snapshot of your most popular services and your not so popular ones. Take it even further with bookings reports to get a deep dive look into which agents or customers have sold or used any particular service that you're interested in exploring.
6. Manage Inventory
Whether you're a tour operator that has inventory to keep track of (like Kayaks, bikes, or cars) or you offer luggage pick up and drop offs. Having a system where you can easily see where anything is at a glance will save you time, resource, and keep your team's stress levels down!
Our friends at Bike it Now! Use Tourwriter for this exact reason – check out their story here.
7. No More Number Crunching
Possibly the most exciting reason of all…No more number crunching! Using tour operator software that has built-in business reporting functionality will change the way you do business…seriously! You'll stop slaving over spreadsheets, and your financial reconciliations in your accounting software will be a much more seamless process…and that means more time to do all of the things that make you happy!
If that doesn't convince you, have a look for yourself!