The US is a big place, there's no avoiding the fact, and there's a lot to see. This means big business for tailor-made travel companies, as people surge in from around the world to take a look at the many famous landmarks, the cultural melting pot, and the friendly, upbeat people.
Visitor Trips Are Increasing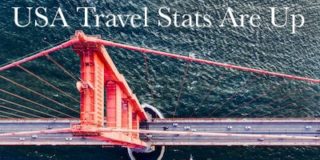 With this in mind, I wasn't all that surprised to hear recently that the number of trips (domestic and international) was very high last year, totaling 2.1 billion. Even more impressively, the number is predicted to hit 2.3 billion when 2019 rolls around!
This information came from a new report, Travel, and Tourism in the US to 2019, which was put together by Research and Markets. It's interesting to take a look at, especially some of the stats.
Here are a just a few of my favorites:
In 2014 alone, international arrivals reached 74.7 million, and inbound tourist expenditure hit US$189.4 billion. That's certainly a step up from the $120 billion in 2009.
What I found really interesting was the length of trips to this massive country were also on the rise. Back in 2009, a domestic trip would sit at around 3.3 nights. In 2014, 3.7 nights was the new normal. There's a good chance this could continue to grow over the coming year.
I'll also point out the fact that outbound trips also increased, with US citizens venturing out into other countries.
How Can Tailor-Made Travel Companies Benefit?
So what does mean for tailor-made travel companies? Well, it looks like the US is showing solid growth and is becoming a hotspot destination for many overseas travelers, and it could be a good idea to start increasing your marketing and sales resources into this market.
Taking advantage of travel software is just one way to ensure your company can handle increased quote requests for tailor-made itineraries. TourWriter ensures setting up interesting tours is a really easy, cost-effective method of quoting would-be road trippers on their dream American holiday.
Get in touch if you'd like to learn more about software that's been designed specifically for the needs of tailor-made travel companies.