It's no secret that the world is getting older. Thanks to truly amazing medical advances, better nutrition, and education, the number of elderly people keeps climbing. In fact, the United Nations Population Fund believes the number of people over the age of 60 will make up 22 percent of our total world population by 2050, up from 11 percent now.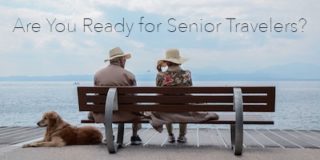 While you're probably thinking about the problems with the workforce and proper senior care, there are a few benefits for savvy tour operators.
Adventure Travel for Seniors Is Set to Explode
Billie Jordan, who is a director of an international adventure company for seniors, Discover Me Travel, reckons that with senior citizens on the way to outnumber children in only 15 years, this "grey population" is one segment of the international travel market that's growing the fastest.
"No longer content with sterile cruise packages, pensioners are now after more adventurous ways to see the world," she said. "Older people know experiences are far more important than material things and want unique adventures."
It's easy to see what kind of opportunity this spells, for both countries receiving these tourists and businesses. An older population with a lifetime of savings could mean big things over the next few years. Ms. Jordan also spoke to how members of the older population are using new technologies. She explained how travel could be more than just a way to see the world for this older group.
"Senior citizens are far more engaged in social media than people think. Just like young people, travel amongst senior citizens is seen as a currency to communicate and define their social status.
Looking a little further ahead, what type of tour is likely to prove popular? Ms. Jordan thinks all-inclusive trips will be high performers. This is arguably one of the reasons why cruises have done so well in this demographic: they're easy to plan and there's no chance of cost overruns.
If we really do see adventure tourism for seniors take off in the next few years, it's going to mean great things for tour companies – especially given the new age group willing to engage with some of the more exciting adventures!
Is seniors travel a niche you're interested in? Are you packaging and marketing your products specifically to this market? To ensure that these tours are managed properly, from the initial travel bookings through to when people are on the tour, have a think about software that's designed for the task.