The A to Z of the tourism industry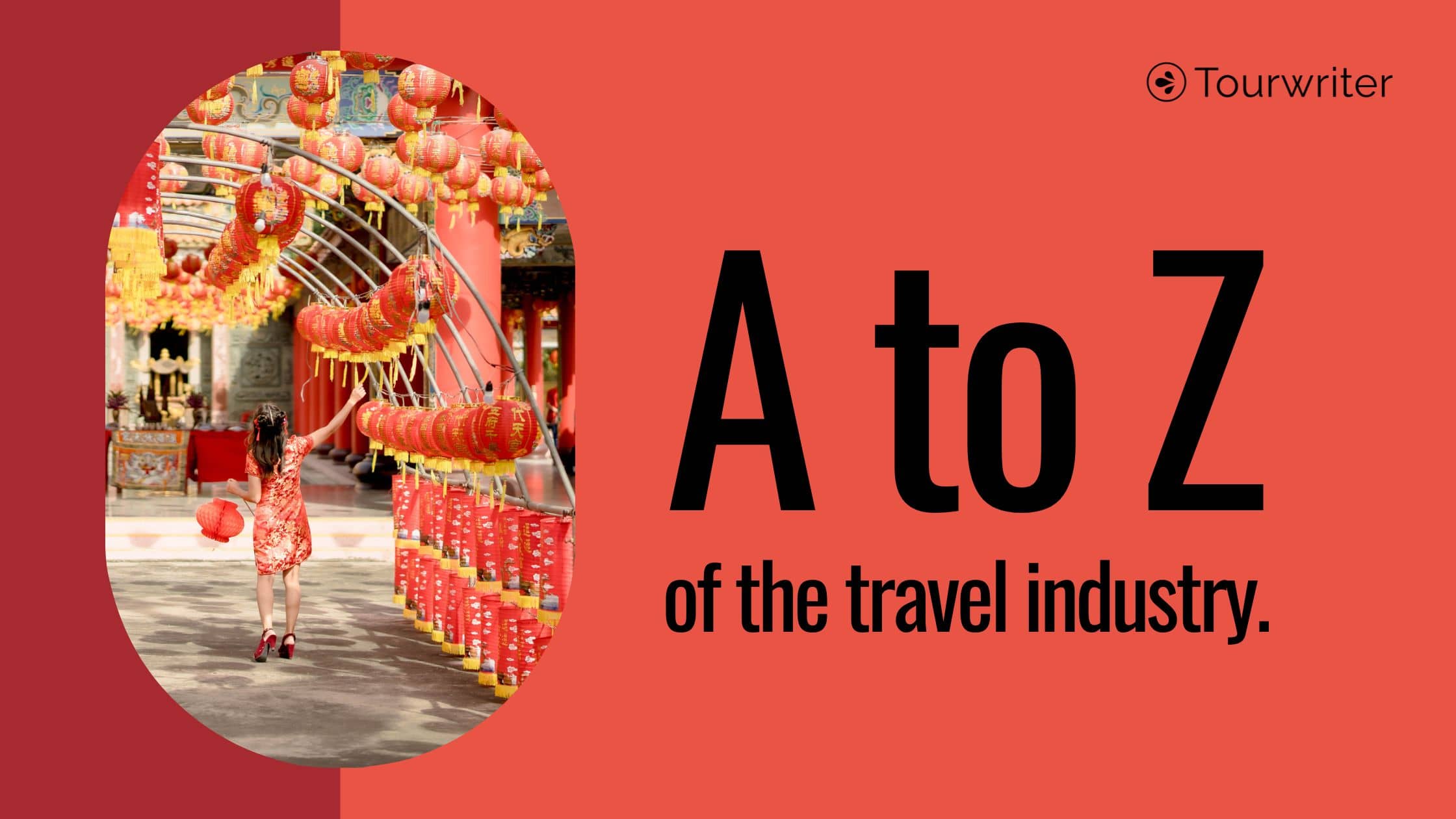 Let's be honest. We've all been in that scenario where you find yourself stumped with a travel acronym that you can't quite remember! We don't blame you for feeling frustrated by it all… travel is a complex industry and understanding (and remembering!) all of the jargon, terminology and acronyms can sometimes feel like you are learning an entirely new language.
Lucky for you, we're making things a bit easier. Drawing from our team's experience through creating travel software, and decades working as travel professionals ourselves we wanted to share the knowledge and create your very own Tour Operator Software glossary. 
Bookmark it for times of need, skim over it to get refreshed, or share it with your industry friends and colleagues.
A
Adventure Tourism
The adventure tourism industry has developed for those thrill-seekers looking for a holiday jam-packed full of activities. From whitewater rafting to dog sledging to glacier exploration, Adventure Tourism isn't for the faint-hearted.
Average Daily Rate (ADR)
The ADR is used to track performance and measures the average income for each paid room over a certain time period. 
B
Business Development Manager (BDM)
As a tour operator, travel agent or DMC, you are most likely going to be working closely with a Business Development Manager (BDM). These are the sales representatives for suppliers, therefore a good relationship with the BDM is likely to serve your business well!
Blackout Dates
There are often dates when particularly awesome promotions or sales don't apply. This is usually because of holiday periods or big events where suppliers anticipate that there is going to be an increased demand during that time.
C
Customer Relationship Management (CRM)
Nowadays, CRM software is used by almost every organisation, both in and outside the travel industry. At its simplest form, a CRM allows you to store contact details of your customers and prospective customers. More complex CRM's allow you to keep track of customers food allergies to pet names (and everything in between). Learn how to get the most out of your CRM here
Cloud
Once upon a time, data would be stored on a local computer. However, the birth of Cloud computing means that platforms are able to store their information on remote servers. Meaning you can access your online information from any device at any time.
Cross season pricing
With the change of season often a change in pricing also comes for many tour operators. Tour operators may adjust their pricing in either direction to accommodate the decrease or increase in business during these times – See Low Season Travel. 
D
Destination Management Company (DMC)
Known for their deep local knowledge, DMC's are organisations that specialise in offering tours, logistics, and planning services for a particular destination. Often known for re-selling their services to tour operators.
Dwell Time
This one is just what it sounds like; how long someone 'dwells' or stays in a certain place. It's relevant to the tourism industry as it refers to the amount of time a customer spends at a certain activity or accommodation – this is useful to know when planning and creating tailor-made itineraries. 
Demand-Based Pricing
Pricing does not have to stay the same all the time, it can fluctuate based on the amount of people interested in a product of service. In the tourism industry, this pricing model is commonly used and operates under the same principle as Cross-Seasonal Pricing above. As a tour operator, this may affect your own pricing or the pricing of the suppliers you use.
E
Ecotourism
As more people and businesses are becoming aware of the environmental impact that travel can have, the niche market of ecotourism is developing. This type of tourism works to ensure that environmental impacts are minimised at every opportunity and is driven by both the tourist and the tourism industry. Learn more about ecotourism and sustainable travel here.
E-Commerce
Also known as Electronic Commerce or EC, this is any form of commercial transactions conducted via the internet. For example, your customers might book and pay for their tour online, using e-commerce platforms.
F
Free Independent Travellers (FIT)
This is a bit of a contentious one, we found 6 slightly different definitions in our search alone! Regardless of whether the F stands for Free, Foreign or Fully, the underlying definition is the same: FIT's are people who shy away from mass tourism and want to travel with people they know. They want a tailor made itinerary created based on their unique needs, passions and interests. They do not travel with group tours or by a schedule imposed by others. 
Fragmentation
Globalisation has meant that travellers are able to shop around for the cheapest rate and source their trip from multiple different suppliers. Read more about travel industry fragmentation here.
Famil
Far from researching everything that there is to know about every destination in the world, travel agents often go on famils. This is a scouting trip; to be able to give some insider knowledge about the destinations they are sending their customers to. Famils are also often organised and paid for by airlines or suppliers in an effort to encourage you to promote their offering.
G
Gross Rate
This is the final rate that your customers pay for your service, ie. the cost plus your commission.
Group Rate
Hotels will sometimes offer a discounted rate for hotel rooms if you book more than 5 rooms at a time.
Group Tour/GIT
Also known as Group Incentive Tour (GIT), packaged trips or escorted tours, a group tour has a set date, price and itinerary. The itinerary may include portions of free time with optional activities to choose from but the travellers are limited to what the tour offers. The group is made up of a variety of travellers.
H
Heritage Sites
The UNESCO World Heritage Sites are popular tourist destinations listed by UNESCO as having cultural or environmental significance.
I
Inbound Tour Operator
A tour operator based in a specific destination country who plans itineraries and organises travel arrangements or conducts tours for travellers based elsewhere.
J
Joint Fare
Travellers often want to stop over in a transit country to refresh when taking long-haul flights. The second flight of their journey may be with a different airline that fits in with their travel times and needs. The Joint Fare is the fare for both of these flights combined.
K
KK
Carrier Confirmed. An abbreviation used when booking airline tickets.
L
Low Season Travel
Also called off-peak travel, certain destinations are less popular during different times of the year (think of a tropical island in the middle of the rainy season). Often, rates also drop during these times – see cross season pricing
Luxury Tour Operator
These tour operators work with often high net worth customers who are looking for a luxury holiday for them or their family. Their travel plans may include private yachts, helicopters or exclusive, VIP experiences – the sky's the limit.
M
Markup
A supplier may increase their rate at a time in which there is a higher demand for their offering. For example, flights and accommodation in a popular destination will increase during school breaks where there are lots of families travelling.
Market Segment
Identifying a market segment is an ideal way to make sure that your offering is being marketed to and attracting the right type of customers. This is especially important for niche tour operators who may specialise in adventure tourism in Canada for under 30's for example.
N
Net Rate
The price of the flights, accommodation etc without the agent's commission added.
O
Online Booking System
An easy way for customers to book (or reserve) an offering online and receive confirmation without having to go through an agent.
Outbound Tour Operator
The opposite of an Inbound Tour Operator, an Outbound Tour Operator or OTO typically offers trips to a variety of destinations, some or all of which are not in the country that the tour operator is based in.
Online Travel Agency (OTA)
An online travel agency is a web-based marketplace where people can go to research, plan and book travel products or services. For many tour operators working with or listing their products or services on an OTA allows them to be seen by a wider audience.  
P
PAX
Pax is travel industry jargon that refers to the number of passengers ie. 2 pax. It also extends to the number of guests, diners or participants.
Packages
An easy and popular way to travel is by buying packages. These often include accommodation, travel and some meals. 
Peak Season
Peak season, also known as the high season, is the time of the year when most people are travelling to or around a destination. This means that travellers will experience bigger crowds and higher costs. Pre-booking activities or experiences well in advance may also be required to ensure travellers can do what they want to at the destination during the peak season.
Q
Quotation
Also known as a proposal, it is a document that details the planned itinerary and the costs associated with the trip. It is usually supplied by a tour operator or travel agency based on a discussion about what the traveller wants. By providing a quotation it makes it easier to compare details before selecting the ideal trip for themselves.
R
Reseller
A company who resells and markets tours and activities for a specific destination, country, region or specialisation.
S
SEO
Although not specifically related to travel, Search Engine Optimisation is an aspect of digital marketing that is crucial for travel businesses in this day and age. SEO refers to the way that you can make sure your website ranks highly in organic search results – increasing your visibility. Read more about how to make sure your website is serving you well here.
SSL
You may have been to a website where an alert popped up notifying you that the website was not secure – not a great first impression, right? The Secure Sockets Layer (SSL) is the standard way to reassure your customers that your site is safe, by creating an encrypted link between your browser and the server. Read more about the importance of SSL certification here.
Single Supplement
A single supplement is a surcharge applied to a single person staying in a room usually intended for two or more people. The surcharge usually applies when a room is charged per person and is essentially to cover the cost of only receiving a single payment for a room that they usually get two payments for.
T
Travel/Trade Association
Travel associations and communities exist to service those in the travel industry who wish to network with, collaborate and be supported by others in the industry. These associations can be niche or broad and often provide fantastic resources and support to help your business thrive! There are a lot out there but don't worry, we've got the down-low on travel associations and luxury travel communities for you.
TTL (Ticket Time Limit)
This is the time limit that businesses (often airlines) give for a ticket to be purchased to avoid cancellations or expiration of the fare.
Target Market
Unfortunately, no one can please everyone. That's why when you are marketing your tour operator business, it pays to think about who your target market is – the demographic or type of people you expect to be most interested in your offering. Specialise your business offering to this target market to get more joy from your marketing efforts.
U
Union Pay
This is a payment method used mainly in China, however, Union Pay is also becoming increasingly available and accepted internationally, opening doors for many Chinese tourists to use this payment method during their travels.
V
VAT
From production to consumption, Value Added Tax may be added to products or services each time they are bought or resold for a profit. Also known as goods and services tax, VAT may apply when tours or activities are resold by a wholesaler. 
W
Waitlist (WL)
Travellers may wish to buy waitlisted tickets in order to save costs. This means that they are placed on a list and will wait to take the place of someone who cancels or doesn't show up.
WTM (The World Travel Market)
The World Travel Market is a leading event in the travel industry, bringing together all areas of tourism and facilitating business connections and growth.
X
XE.com currency conversion
Currency conversion is the difference in value between two countries' money. Determining what currency you need and the rate of exchange easily is helpful when travelling between countries.  XE.com is the leading currency conversion website with 20 years of experience in the industry.
Y
Yield Management
The yield of your offering is the average revenue per unit of sale eg. revenue per 1 person's airline ticket. Yield management involves understanding the times in which your offering is in higher demand and identifying the type of people who would purchase your offering. You can then calculate and manage your anticipated yield to maximise profit!
Z
Zorbing
You may have seen pictures before of adrenalin-junkie tourists hurtling down a hill in a blow-up ball. These balls are called Zorbs and it might seem mad but it's a massively popular adventure tourism activity. 
Zoning
Relating to the rise of ecotourism, some areas are prone to the pressures of tourism and are zoned as such. These zoned areas sometimes limit the number of people allowed at one time, or simply notify tourists about their environmental impact and monitor the damage.