Tourwriter Team Rising to New Challenges
Glenn, the boss, was inspired by a bank a while back. Banks aren't normally inspirational so I thought you might be interested in this.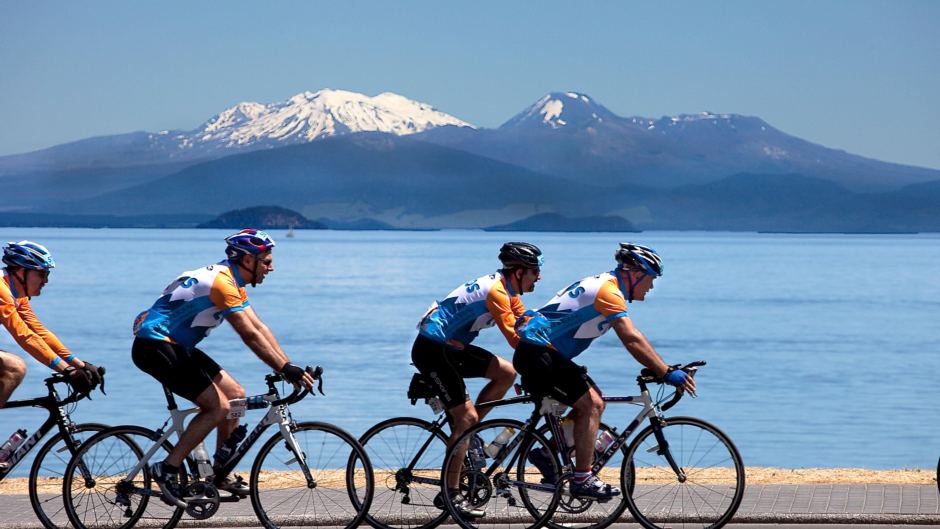 He went down to the local BNZ branch to deposit some funds and the bank was closed for good. Not just a department, not even just the branch but nationwide the entire bank was closed for the whole day as staff volunteered for charities. Which was good obviously. Check out some examples of the bank staff doing good with some amazing projects.
However Glenn really wanted to deposit the money after walking all the way down to the bank so he was a bit grumpy. Glenn wasn't feeling so inspired at the time, however inspiration was about to strike.
That same afternoon I mentioned I had decided to complete the Lake Taupo Cycle Challenge. This is 160-km bike ride around New Zealand's largest lake with 14,000 close buddies of varying degrees of riding experience. I enjoy biking to work most days and I felt the urge to cycle more. I had decided entering the cycle challenge would be a goal I could train towards. (I understand this as classic behaviour of a male who has just turned 40 but we can leave this for another blogpost.) I like goals but I actually enjoy the work required to reach a goal more. Strangely enough, without out the goal I never seem to put in the work though!
Anyway a light brightened (inspiration) in Glenn's mind that fateful day for good. TourWriter would sponsor my entry to the cycle challenge to aid my personal development he decided. Helping me to do good for myself  is how I like to think of it. Any TourWriter staff looking to challenge themselves can do the same. One challenge each a year.
The arrangement is flexible and staff can become as inspired as they like. This might be going to far though. Glenn what do you think? Part of the Tourwriter sponsorship can include fundraising for a charity if desired. It is all up to the individual.
As of today we also have a Tourwriter Team TourRunners entering into this years Round the Bays Fun Run. One of our team goals as Team TourRunners is to fundraise for the Malaghan Institute. Visit our EveryDayHeros page to support the cause.
I don't like running but love a challenge so I have signed up for my first half marathon. Anyone got some advise?Luckily none of us are competitive!?!. Let me know if you have any advise for a first time half marathoner.
I'm working for TourWriter because I'm passionate about business efficiency. I spend my days increasing the profitability potential of Tour Operators the world over which is enormously satisfying. However I'm sat at my desk on the 22nd floor of an office block most of the time and I need to keep active. Active body equals efficient mind.  Its great to be working for a company that takes my (our) personal interests seriously. Thanks boss(es). Stay tuned for updates on our Team TourRunners training progress.
Talk soon,
Jason