Tourwriter launches online itinerary builder platform designed to reinvent the way tour operators design travel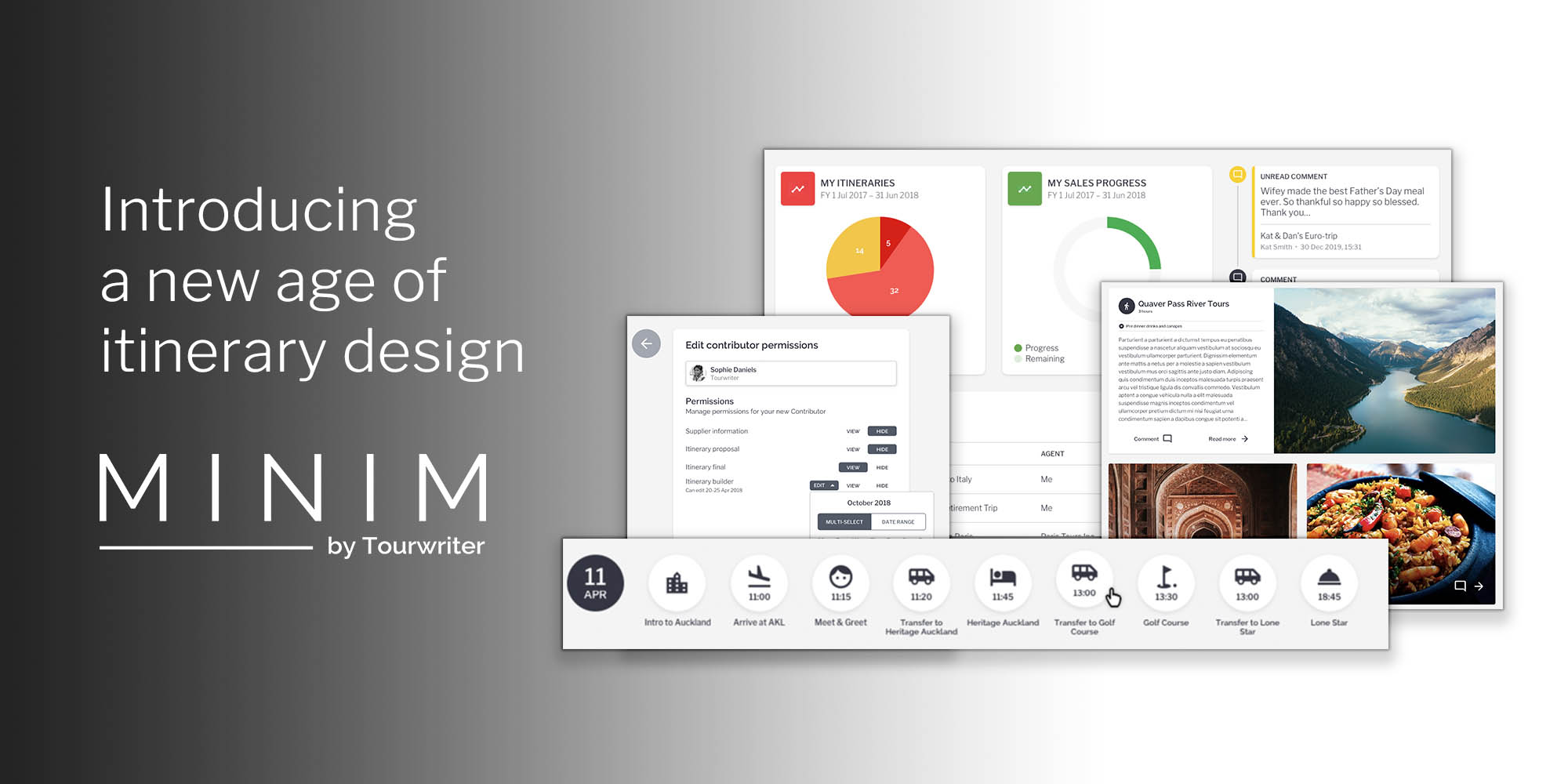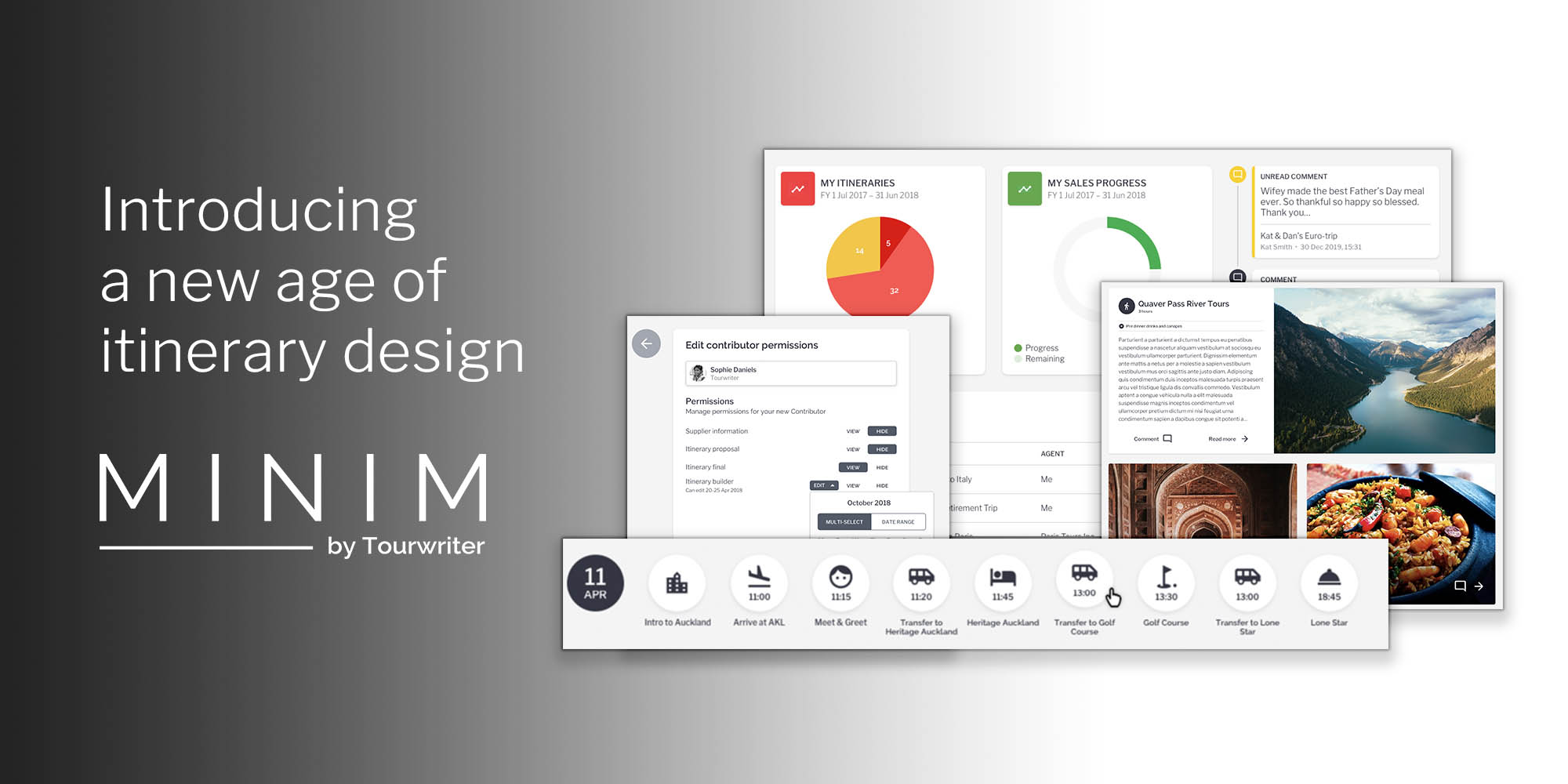 Tour operator software company, Tourwriter, are introducing a brand new product to the Tourwriter family. Their new product, Minim, is being recognised as a significant step forward for tour operator software, reinventing the way tour operators create itineraries and collaborate with their customers and agents.
The online platform is available as a standalone platform for tour operators, as well as an add-on integration for customers using Tourwriter. Minim's integration with Tourwriter's existing platform will make Tourwriter the first company worldwide to offer customers a true end-to-end tour operator software solution.
The integration has been used by a number of our existing Tourwriter customers over the latter part of 2018. "It has been such a delight to see our existing Tourwriter customers be the first to take advantage of the Minim integration functionality," said CEO, Glenn Campbell. "The initial design and development of Minim really has been guided by our loyal customers – we couldn't have developed Minim as comprehensively without them" added Campbell.
Upon logging into Minim, it's visual identity is clear; it's clean, simple, and ultra intuitive. "We've created Minim with a design led approach. Not only have we crafted beautiful itinerary templates, but the entire itinerary building process has also been created with an intention to provide a sense of quiet  in what can often be an intense work environment. Minim works to make 'a day in the life of a tour operator' even more enjoyable," explained Andi Parker, Tourwriter's Lead User Experience designer for Minim.
Along with its innovative design, Minim is also being launched with a radical pricing option for it's standalone users: free. When it came to designing the pricing plans the team behind Minim leaned on their industry experience, having been tour operators themselves for many years prior. "We know that as a tour operator software provider, our only path to success is designing  products that help our customers succeed. The pricing model for Minim is inspired by that philosophy," explained Head of Marketing Denise Campbell, who co-founded Tourwriter 14 years ago after a 12 year stint as a tour operator in New Zealand. "The free plan, Minim zero, is the perfect stepping stone for tour operators who want to trial the product ahead of moving to Minim plus or are just starting out. We wanted it to be effortless". Minim will be the industry's first itinerary building software to offer a free plan.
Its paid plan, Minim plus, boasts an array of cutting edge innovations designed to shake up the status quo of itinerary design. In-itinerary chat functionality allows travel designers to communicate seamlessly with their customers. Revolutionary B2B functionality allows tour operators to invite and collaborate with other businesses such as ground handlers, DMC's, and business customers, making Minim the travel industry's only platform designed to allow such collaboration.
Along with the never-before-seen features, Minim comes bursting with a meticulously crafted itinerary design, an effortless supplier database, a birds-eye-view Minim Analytics Dashboard and a refreshing new take on tour operator software pricing. Aside from a small monthly base fee, the paid plan will only charge Minim customers when an itinerary sale is confirmed, a nod to the company's mantra, 'Your success is our success'. "Tourism is seasonal, and by nature business can be unpredictable. Everything about Minim, even it's pricing, was designed with this in mind. When you succeed, we do too. When business is quieter our Minim platform won't be a burden that stretches the budget. It's a win-win." explained Tourwriter CTO, David Crompton, who led the development of the new product.
Minim officially launched this week. While several of Tourwriter's customers had the opportunity to try the new product before anyone else, the announcement has largely been kept under wraps until now. To learn more about Minim, and to try it for yourself visit itinerarybuilder.tourwriter.com