Client Success Story – Pomegranate Luxury Travel and Tailor Made Holidays
Learn how Tourwriter helped Pomegranate Travel triple their itinerary volumes.
Hannah founded Pomegranate Travel in 2013.  Born and raised in London, she found herself whisked off to the Middle East after meeting and marrying an Israeli.
Inspired by the pervading spirit of innovation and entrepreneurialism, "by people following their dreams", Hannah started Pomegranate Travel to share this endlessly fascinating place where sensual indulgence and intellectual stimulation come magically all wrapped up together. Pomegranate Travel sells Luxury and Tailor Made Travel to Israel.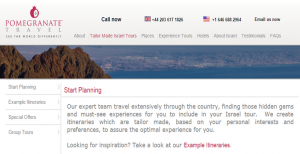 Complex, engaging and often contradictory, Israel somehow packs in ancient history and cutting-edge technology, deep spirituality and intense hedonism, awe-inspiring desert and rolling green hills, sandy beaches, and bustling cities. Through tailor-made tours with the best tour guides and hotels, Pomegranate Travel provides unforgettable experiences that will stimulate your brain, delight your senses, and rouse your spirit of adventure!
Hannah Was Looking to Grow Her Luxury Travel Business
From her background in finance, Hannah knew specialist travel software would free up valuable time allowing her to focus on driving new sales. Hannah was using Word and Excel to manage her relatively new travel business and was finding the time taken to generate quotes was taking too long.
This had 2 major implications:
It limited the number of quotes Hannah could produce a day
Attempting to turn quotes around quicker impacted on their quality
Word and Excel limited the number and quality of quotes Pomegranate Travel produced thereby limiting potential sales. Hannah needed to increase her volume whilst also increasing quality.
What Were the 2 Main Problems Tourwriter Solved?
Automation of itineraries to make it much quicker to produce a quote
having all client information stored centrally
Tourwriter Has Enabled Hannah to Triple Her Itinerary Quote Output with No Impact on Quality.
"I now have one system where all client information including pricing information and status of quote is stored. We can also easily see aggregated information about where our clients come from, and how much we are spending with each supplier. As a small business Tourwriter has helped clarify our business processes.Tourwriter  is a great piece of software for those looking to create smart looking itineraries in an efficient manner." — Hannah Blustin, Owner Pomegranate Travel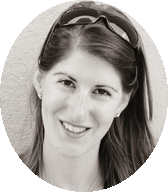 Complex tailor made quotes can take 5 or more hours to prepare using word and excel. It is really easy for busy entrepreneurs to be bogged down with the day to day operations and Tourwriter has allowed Hannah to focus on driving her company forward.
"I would highly recommend this industry specific piece of software to other tour operators."
Creating fabulous looking itineraries is only half of running a travel company. The hard work continues with sending out booking requests and reconciling supplier invoices. Tourwriter automates the supplier relationship ensuring financial processing is quick and easy. Tourwriter's built-in financial reporting ensures Hannah can plan for the future as she scales her business.
Quick Facts
Pomegranate Luxury and Tailor Made Travel
1 User Licence
Client since 2013
Team of 1
Online Hosted Database
Sells: Tailor Made Luxury Tours to Israel
Offices in UK and Israel