COVID 19: How to adapt your cancellation policy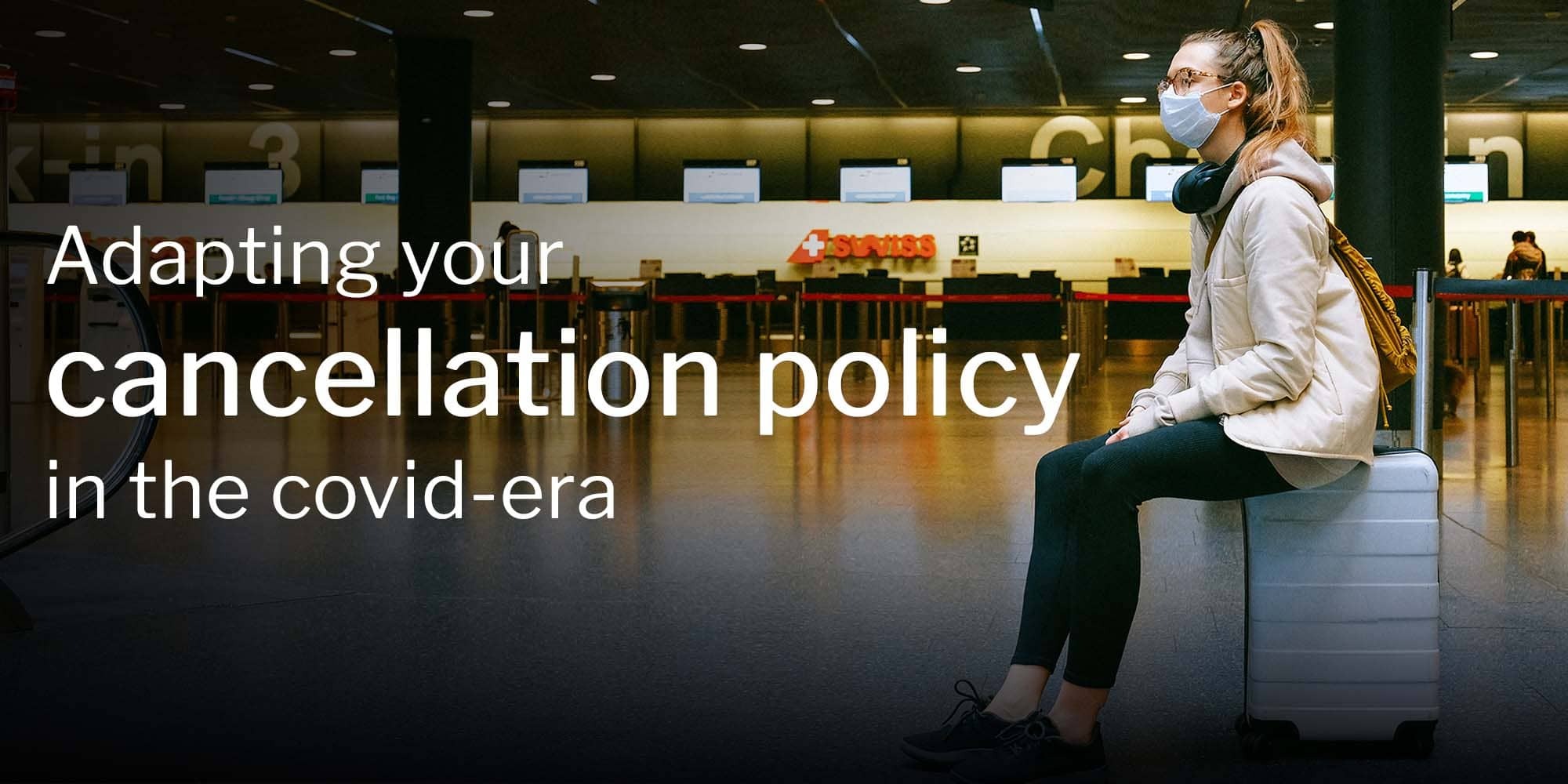 With travel restrictions changing regularly due to COVID-19, planning a trip at the moment can be tricky. But after a year and a half of living through a pandemic, travellers' expectations are changing. As travel resumes, travellers are more likely to choose airlines, tour operators, and other tourism-related companies that have adapted cancellation and rescheduling policies in response to COVID-19. The industry standard is shifting towards offering more reassurance and flexibility in order to account for last-minute flight cancellations, border closures, outbreaks and more.
Finding balance in your cancellation policy
According to the Ministry of Business, Innovation & Employment, it is estimated that in New Zealand alone, an estimated $690 million dollars is locked up from travel cancelled due to COVID-19, with approximately 85% related to international travel. While some countries have begun reopening following the implementation of vaccinations, the lifting of global lockdowns, and the start of rapid testing, there are still many unknowns which is resulting in a lot of trepidation for travellers and them re-booking in 2021 and beyond.
As a business owner emerging from what has most likely been an extremely difficult two years of business,we'd be remiss not to acknowledge the important need to strike a healthy balance between traveller expectations, and the need for you to have some reassurance in your cash forecasting.   
So what can you do as a tour operator to encourage your customers to book with confidence, whilst also balancing your need to protect your business in the months and years to come?
Here are five examples of COVID-19 cancellation policies that offer guests assurance and flexibility for you and your team to learn from.
Hassle-free rescheduling
Below are examples of tour companies that are balancing the traveller reassurance by allowing rescheduling, but maintaining their revenue by not outright allowing cancellations.
Indian Excursion Co: Indian Excursion Co, a tour company that specialises in private, luxurious tours of Rajasthan, has implemented a "Flexibility Promise" that guarantees their customers no charge for rescheduling their trip up to 30 days before departure. They have also temporarily extended their payment policy so that customers can pay their final installment (80%) 30 days before arrival, instead of the usual 60.
Carameltrail: Carameltrail, a tour company that arranges tailor-made trips to Spain, Portugal and Morocco, wants their travellers to feel 100% safe when making travel decisions and have therefore Reduced trip deposits to 25% and are waving all rescheduling fees as long as the traveller reschedules before December 31 of the following year.
Giving customers peace of mind with full refund options
Below are examples of tour businesses that have decided that offering the peace of mind that comes with a full refund is likely to result in more business overall. Although the commercial risk is higher when you include these sorts of options in your cancellation policy, the school of thought is that it reflects well on your brand, and will likely result in those customers coming back to you regardless. 
My Ireland Tour: My Ireland Tour offers a range of Ireland tour packages, as well as bespoke private customised tours. In order to ease the concerns of their customers, they have implemented a "Peace of Mind Travel Plan" that allows unlimited changes up to 60 days before the tour and the ability to transfer the full amount paid to a future tour or get a refund of all monies paid if there is any travel cancellation related to COVID-19. Alternatively, customers have the option to transfer to a future tour up to 60 days before the scheduled departure. Taking it a step further, The My Ireland Tour Team clearly states how they handled the unprecedented events of 2020 and 2021.
Campeasy: Campeasy offers high-class campervans fully equipped for a road trip through Iceland. If you are fully vaccinated and can produce a vaccine passport, or a PCR certificate, you are able to go directly from the airport to the Campeasy offices to pick up your camper. They have also altered their cancellation policy and now cover cancellations with full refunds, even after the 24-hour deadline if it's COVID-19 related. Additionally, if you happen to test positive when taking the COVID-19 test on arrival in Iceland, they will refund your reservation in full, even if you have passed the 24-hour window
Improving user experience
It's also important to remember that there are other ways you can provide your future customers with reassurance in your cancellation policies. Something as simple as ensuring your information is easy to digest and written with your travellers in mind can make all the difference. Below is an example of a tour company that has provided its customers a helpful FAQ page. It acts as a go-to source for COVID-related questions and results in a great user experience.
Back-Roads Touring: Back-Roads Touring Co. specialises in off-the-beaten-track, small group and tailor-made tours across the UK, Europe and Asia. While they have suspended most of their tours through the end of 2021, they have implemented a helpful FAQ page on their site that answers a lot of questions that current and prospective customers may have about their tours and travel plans. They are also offering travel credits to their customers based on their individual situations and circumstances.
Although the rules surrounding COVID-era travel are rapidly changing, there are certain measures that your tour operator business can take to assist your guests in making the best and safest travel decisions. So we encourage you to take some inspiration from the above examples and consider implementing more flexibility into your cancellation and rescheduling policies so that your customers can have peace of mind when assessing their travel plans.