How Can Tour Operators Protect Themselves from Google Travel?
Anyone who has gone on holiday within the last few years will undoubtedly have noticed some of Google's newest innovations for travelers, especially on mobile devices. Book a hotel, and Google Maps will stick a pin in the location for you. If you have an upcoming flight, you can expect to see those details come up right away with a relevant search. Is Google Travel on the way?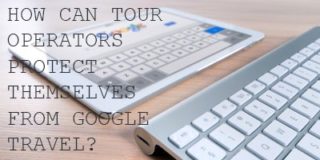 These features may have tour operators concerned that Google will soon be crossing over from search engine to booking service, potentially spelling trouble for those in the industry -, especially smaller organizations.
Is it time for tour operators to start panicking? Absolutely not. Instead, this is a good opportunity for them to take a deep breath, evaluate their own services and get busy strategizing. Even if Google does step up its role in the field, there are a number of ways tour and travel companies can remain competitive.
What Are the Plans for Google Travel?
According to a LinkedIn pulse article by mTrip CEO Frederic de Pardieu, Google will soon launch Trips – a travel assistant app that can integrate with an email inbox to provide holiday goers with information relevant to their destination. According to TechCrunch, the app is already being tested by a select group of users, with no information as of yet on an official launch date.
In his article, Mr. De Pardieu also noted that Trips will capitalize on the opportunity to sell services related to a trip – including accommodation, transportation, and activities. Additionally, the app will allow Google to use predictive analytics to guess a traveler's next destination and provide deals for it.
While this sounds intimidating for tour operators, the fundamental way Google is currently approaching holiday planning should offer some relief.
Bespoke or DIY Travel Itineraries?
One thing to keep in mind is that Google and more traditional tour operators are not necessarily catering to the same clientele. One of the main benefits of a travel agency is that it can provide a one-stop shop for all aspects of travel needs. This creates an easier experience for clients, as they can manage many aspects of their travel plans through a single provider. Google's offerings, however, are quite different – they provide travelers with the tools needed to make arrangements on their own behalf.
Both scenarios have their pros and cons, but it should come as no surprise that a fully DIY model isn't what all customers are looking for. Let's look at ITA Matrix – which Google announced an acquisition of in July 2010 – as an example. ITA Matrix allows potential travelers to search for flights based on a number of parameters and see the results organized by cost and airline. These flights, however, cannot be booked through the site; travelers have to bring the itinerary details to an airline or booking agent to actually make a purchase.
Travelers who want the cheapest possible deal – and are willing to work for it – will certainly find a use for flight and accommodation booking software, but those who want a more convenient planning process will likely see it as far too cumbersome.
What's Your Service?
Customer service, therefore, remains a key strategy for tour operators. After all, that is one of travelers' big priorities – one that 54 percent of consumers would be willing pay extra for, according to Xerox's 2015 State of Customer Service report.
With Google poised to increase its travel services, it is imperative that tour operators focus on this above-and-beyond service and highlight what they can deliver that algorithms alone cannot.
To learn more about how Tourwriter can help deliver a smoother customer experience by streamlining back-end processes, contact us today.