Tourism industry statistics for 2019 and beyond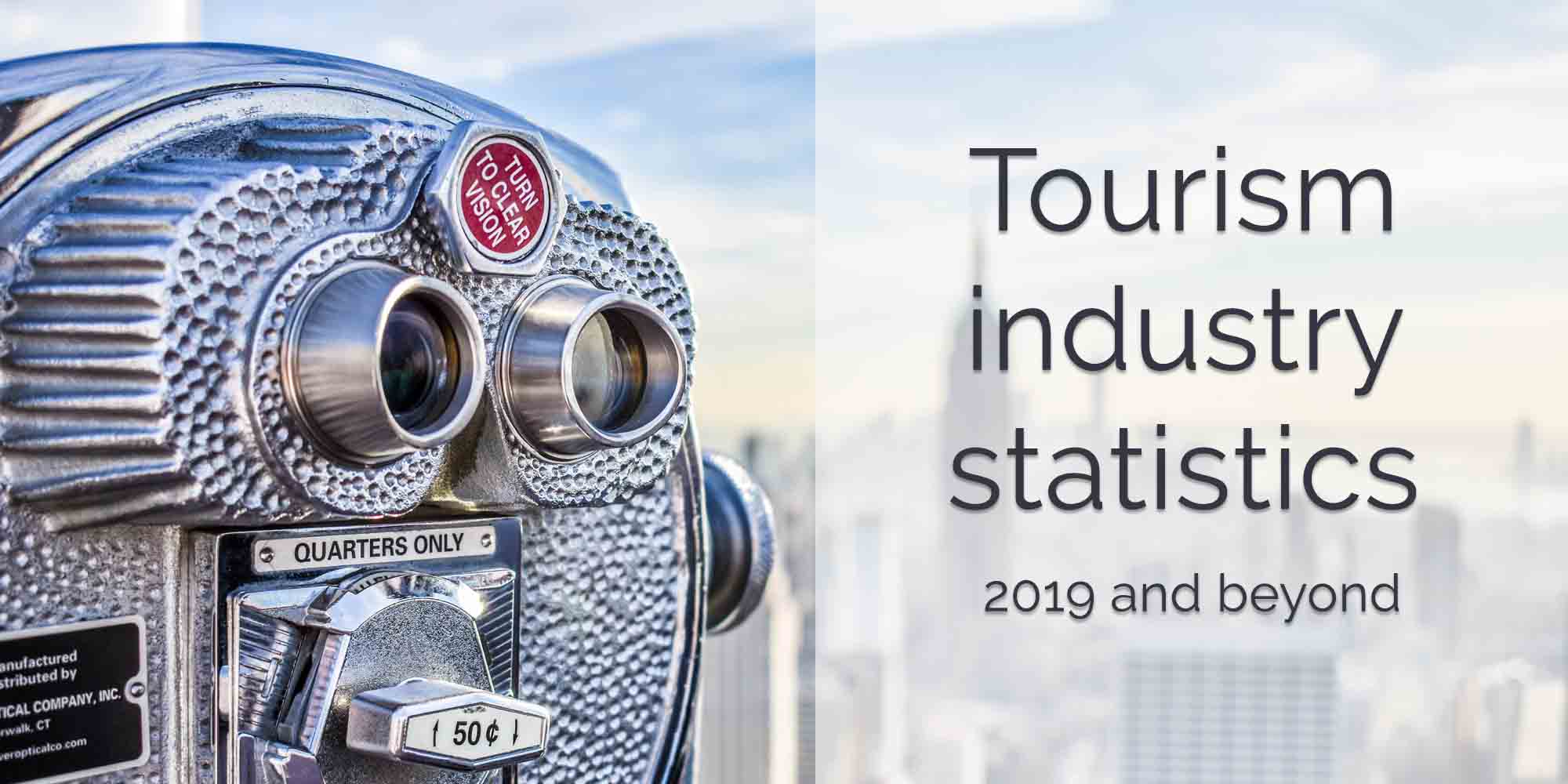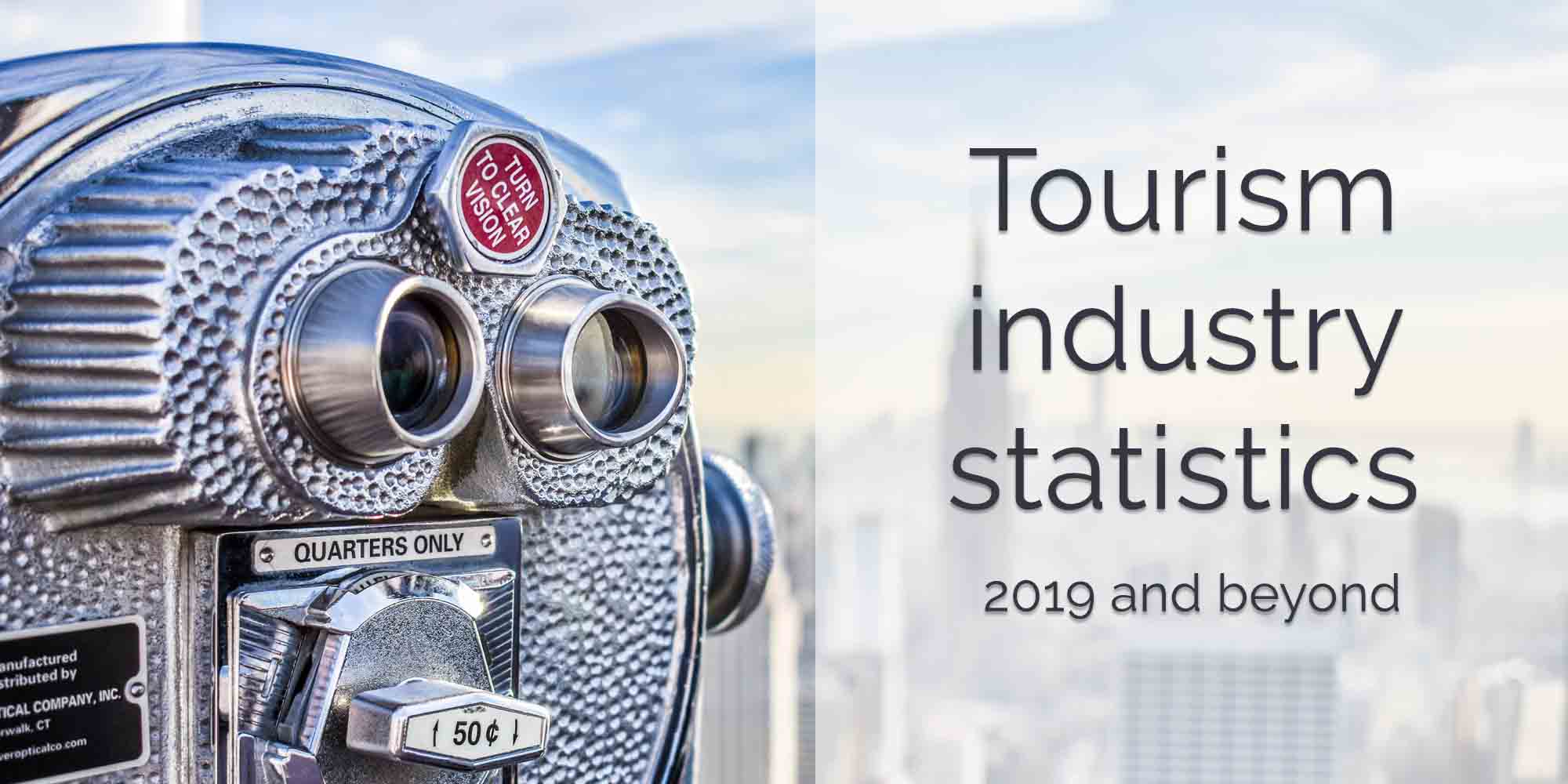 2019 Travel Industry Statistics
The travel industry is a busy place! As tour operators, travel agents and DMCs you have countless competing demands to manage, whether it's providing quick quotes, creating accurate invoices or collaborating with clients, the list goes on. With all of this on your plate, it's challenging to keep across what's happening in the dynamic, ever evolving industry without spending hours combing the internet and reading reports. 
That's why we've tried to make it nice and easy for you by doing all the hard work  for you! This blog breaks down the plethora of information out there and highlights statistics and trends of the key areas in the travel industry. Now  you can ensure that you're across what's happening in the industry, consider how these statistics might affect your tour operator business and act accordingly.  We'll explore:
Sector Growth: Stay abreast of industry growth patterns and understand where the travel and tourism sector is likely to head in 2019 and beyond. 
Popular destinations: Learn about the destinations that are currently experiencing exciting and rapid growth .
Traveller demographic changes: With every generation comes new drivers behind the type of travel that they seek. Here we look at a few key demographics and how to meet their needs. 
Emerging trends and niche markets: We explore the latest and greatest in upcoming niche markets that you should be paying attention to. 
Sustainability: As climate change becomes increasingly visible, sustainable travel is becoming seriously important to travellers Explore the latest stats in sustainability in the travel sector.
Technology and Travel: Technological innovation is not going away any time soon so we're here to help you keep up with the latest in tech and how it might affect your travel business. 
Traveller Expectations: Ultimately, the way that the travel industry operates is influenced by the expectations of travellers and what they expect from you. Make sure your tour operator business can adapt to their demands. 


According to the UN World Tourism Association, 2018 was the 8th year in a row of sustained industry growth, with 1.4 billion international tourism arrivals. The trend is predicted to continue for 2020 and beyond. (UNWTO, 2019)
Phocuswright estimates that the global tours and activities market will reach US$183 billion by 2020. (Phocuswright, 2018)
What's bigger than Tripadvisor? Booking.com, which is now the most popular travel site in the world with more than 443 million visitors recorded in May 2018. (Salecycle, 2018)
From 2009 to 2018, the number of open positions in the leisure, hospitality and travel sector grew tremendously, from 353,000 to 1,139,000. Only good things are predicted for the future growth of the industry. (Deloitte, 2019) 
Globally, 1 in 10 jobs are linked to the travel and tourism industry. (UNWTO, 2019)
The average consumer is changing their spending habits, and travel is benefiting as a result. General spending on tangible goods is dropping, whereas spending on experiences such as travel and eating out is on the rise. (Deloitte, 2017)


Whilst the standard tourist hotspots are standing strong, there are some new kids on the block; destinations such as Portugal and Vietnam, are growing in visitor numbers by 20-30% annually. (Deloitte, 2019) 
The Asia Pacific region had the biggest inbound  industry growth in 2018, with US$432 billion; an increase of 7% from the previous period. (UNWTO, 2019)
Outbound tourism growth in the Asia Pacific region is also reported to account for 54% of all growth worldwide. (Skift, 2019). 
Virtuoso reported a surge in bookings to Egypt and Turkey in the past year, with a growth of 264% and 310% respectively. (Skift, 2018)
It's estimated that 57% of international tourists in 2030 will be travelling to emerging economies. (Responsible travel, 2017)


It's estimated that 'ed-venture' and family gap years will continue to gain popularity in the coming years. This is driven by the fact that half of the UK and American workforce will be freelance, giving them more freedom than ever before to embark on family travel. (Condé Nast  Traveller, 2019) 
Gen Z and Gen Alpha (born post 2010) are playing a more important role in shaping family travel decisions. Although they may not be doing the purchasing, 64% say that they have a direct influence on the destination, activities and the length of the trip. (Short Term Rentalz, 2019) 
Millennials are doing a great deal of travelling and are the industry's most lucrative demographic market. Individuals in this demographic will reach peak earnings in the next decade, 62% travel 2-5 times per year and 87% look to social media for travel inspiration. It is therefore vital to understand how your tour operator business can appeal to this market segment. (Global Data, 2019). 
58% of millennials worldwide are willing to travel alone, compared to 47% of older generations. (Solo traveller world, 2019)
Adventure travel is no longer exclusive to the young. According to a 2018 survey by the Adventure Travel Trade Association, 22% of adventure travellers fall into the 51-60 age bracket. (Travel Leaders Group, 2018) 


One of the biggest growing niche markets; the cruise industry had over 28.5 million passengers in 2018, with a year-on-year growth of 9%  (World Maritime News, 2019) 
According to Deloitte, there are some exciting emerging niche markets on the horizon. As of 2019, gastro-tourism, eco-tourism, and well-being travel are growing at a faster rate than the broader travel industry.  (Deloitte, 2019) 
Priorities are changing for travellers, with activities and unique experiences taking precedence over nice hotel rooms according to 67% of high income travellers. (Skift, 2019)
The Global Wellness Institute has witnessed record growth in wellness tourism, predicting that it will be a US$919 Billion market by 2022. (Global Wellness Institute, 2018)
Intrepid Travel noted that 'digital detox' is becoming a common travel component, with these types of trips to Patagonia increasing by 114% for example. (Skift, 2019)
59% of REI's adventure travel customers were women in 2018. This trend is showing no signs of slowing down anytime soon, with REI reporting that inquiries from women have more than doubled since then. (Skift, 2019).
Roughly one in four people say they will travel solo in the future. (Solo traveller world, 2019)
52% of solo travellers reported that they would be interested in tailor-made travel, with safety (52%) being most important to them when travelling solo. (Travel Agent Central, 2019)


Sustainability continues to be an integral part of tourism policy, with 100% of UNWTO member states specifying it as a priority, and 55% referring to it extensively in their tourism policy. (UNWTO, 2019)
Travellers themselves are increasingly more aware of, and placing more importance in, sustainable travel. In fact, three quarters of travellers believe that making sustainable travel choices is important for saving the planet for future generations. We can see attitudes changing before our eyes, supported by the fact that this figure has jumped up from 62% in 2016. (Booking.com, 2019)
Only 50% of travellers understand what they can do to travel more sustainably, meaning it's up to tour operators, travel agents and DMCs to enable their customers to make sustainable choices. (Booking.com, 2019)
Crucially, the social and environmental impact of over-tourism is on many people's minds, and tour operators are responding by increasingly promoting less travelled destinations, or refusing to send their customers to packed destinations in high seasons. (Skift, 2019)
70% of global travelers say they would be more likely to book an accommodation knowing it was eco-friendly, whether they were looking for a sustainable stay or not. (Booking.com, 2019)



Online travel is the next big thing. The global online travel market was worth more than US$629 billion in 2017, and is predicted to reach almost US$818 billion by 2020. (Salecycle, 2019).
Google is very obviously onboard the online travel bandwagon, with their universal search elements occupying front page results for travel related keywords. Knowledge panels and maps are now appearing in 65% and 17% of travel searches respectively. This means it's more important than ever that your SEO strategy is rock solid. (Salecycle, 2019).
Artificial Intelligence (AI) is transforming tourism, from virtual assistants to companies being able to offer hyper-personalized customer experiences and improve business performance. (UNWTO, 2019)
Staggeringly, it's estimated that 40% of large businesses will adopt chatbot and AI technology by 2020. Technology that could be used to customise the travel experience significantly. (Forbes, 2018)
Mobile is now more important than ever in the travel sector, from the initial search to the experience itself. Google, for example, reported that searches for "near me" grew by 150% in 2018. (Skift, 2019)
Social media continues to play a significant part in travellers' decision making and in travel itself. In fact, more than 50% of travellers from the US, UK, Canada, and Australia said that content, promotions and deals on social media influences their travel plans. (Expedia, 2018)
It is worthwhile being cognisant that 60% of travellers, and 97% of millennial travellers will post on social media while travelling. (Olapic, n.d)


User experience is more important than ever now that online booking is becoming more popular. Apps and websites with a great user experience contributed towards the booking decisions of 85% of travellers.  (Salecycle, 2019).
It's not just about the sale! Importantly, 65% of people buying travel experiences desire post purchase engagement with the brand in order to feel that their experience was satisfactory. (Facebook IQ, 2018) 
Travellers are more likely to turn to videos to search and learn about the destination before they book a trip, according to Google. As a result, travel companies are starting to upload review and showcase videos as a marketing strategy.  (Think with Google, 2018)
90% of travelers worldwide are not satisfied with the standard traveling process and would like a more personalised, unique approach. (Medium, 2019)
As you can see, there's certainly plenty happening in this exhilarating and dynamic industry, and that doesn't seem to be stopping anytime soon! Growth is pegged to continue in an upwards trajectory and as ever, technology will continue to play a key role in the lives of both travellers and tour operator businesses globally. The biggest theme in the travel industry right now is change, with travellers leading a big push to move away from the norm, embracing new technologies and new types of travel! Being able to adapt and embrace change, actively listen to the needs of your customers and be open to new technologies are key to being the best tour operator business that you can be. 

Check out 2018's travel industry statistics to see how the industry has changed in the last 12 months. 
Read more about the latest travel trends and upcoming niche markets.