Tour Operators Catching on to the Popularity of Golf Tourism
Are You Taking Advantage of Trends in the Travel Industry?
As tourism continually increases in value, it is also becoming more specialized. Golf tour operators are a well-established type of tour & travel companies who often operate in traditional regions such as the United States, Australia, and the UK. Moreover, now is an optimal time to start your own travel company.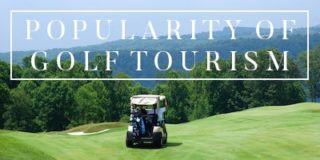 However, as golf rises in popularity with the aging population of many Western nations, more markets are emerging. As more options increase, it becomes more important to effectively manage bookings for customers.
Australian Tourism Industry on an Upward Trend
Recent research from IBISWorld indicates that Australia's tourism industry is set up well for the future. It states that tourism already generates $118 billion in revenue and contributes more than 543,000 jobs to the economy.
With a strong forecast for the next five years, the sector is increasingly becoming a core part of Australia's economy. According to its latest analysis, the sector will earn an estimated $129.7 billion by 2020/21, fostered by a rise in visitors from Asia and a weaker Australian currency.
Chinese visitors outpaced tourists from Japan in both money spent as well as nights stayed. Furthermore, tourists from China outspent UK visitors by 50 percent. IBISWorld expects that India will follow in China's footsteps, helped along by an increase in the number of Indian students choosing to study in Australia and a rising middle class.
Golf Becoming a Preferable Pastime
Golf is growing in popularity in Australia, with rates of players steadily increasing. According to Roy Morgan Research, 19 percent of men aged 35 to 44 years old participate in golf (14 percent play occasionally while 5 percent play regularly).
Furthermore, as men become older, the participation rates rise by 2 per cent. As we reach the 65 to 74-year-old demographic, regular golf sessions hit their peak at 10 percent.
"Excluding walking for exercise, golf is the most common sport or activity regularly played by men aged 65 and over, ahead of fishing, gym or weights training, swimming and cycling," explains Roy Morgan Research CEO Michele Levine.
"However among these pursuits, golf is the only one that actually gets an uptick in regular participation after retirement age. Other sports to get this 'retirement bonus' among men include tennis and lawn bowls."
This indicates that many men are attracted to golf in their free time, and as they retire, have more of a chance to play. Combined with the rising number of tourists entering Australia, tour companies can capitalize on these trends.
What Is Golf Tourism?
The Caribbean Tourism Organization (CTO) defines golf tourism as a holiday centered around the sport. Underscoring research from the International Association of Golfing Tour Operators (IAGTO), the organization states that the international golf tourism market is worth an estimated US $17 billion.
With approximately 56 million golf players across the globe, it's no surprise that this industry continues to do well. According to the CTO, 5 to 10 percent of this total travel overseas every year for the sole purpose of playing golf.
In the United States alone, the 26.7 million golfers contribute over $60 billion to the economy. While Australia, Japan, and the UK all have mature golfing markets, there is competition from other nations.
Asia, the Middle East, and Mexico are emerging as serious competitors for the already established golf nations. While it is unlikely this will be realized in the short-term, growth is expected to be noted over the next five to 10 years.
For example, the CTO notes that Korea currently has 200 golf courses, a figure that is forecast to increase to 400 by 2016.
More Travelers Are Taking Golf Holidays
According to results from the IAGTO's most recent quarterly survey for 2015, golf holidays are on the rise. The research was completed by over 700 golf tour operators, golf courses, hotels and golf resorts.
The survey analyzed travel during July, August, and September this year, revealing that arrivals rose by 2.4 percent year on year. Currently, European countries that are home to some of the top summer golf destinations had 5.6 percent growth.
Looking forward, bookings as of October 1 were 1.8 percent higher than the same period in 2014 with only minor reports of a reduction in forward bookings (11.8 percent). Once again, it was suppliers based in Europe and North America that had above average forward bookings of 4.9 percent and 2.2 percent.
With golf holidays on the rise, tour companies targeting this market need to be prepared for more customers and ensure they have an effective way to manage the bookings. One way to achieve this is through the right travel software that can provide you with the organization you need so you can focus on your customers.