When Is the Best Time to Upgrade Your Back Office Software?
Industry-specific back office software has quickly become the backbone of the modern economy, and you only have to look at banks and retail for evidence of this assertion. Now more than ever before, businesses use a range of back-office software to manage clients, products, and services.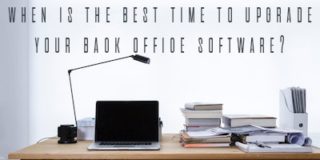 Is it time your tour business looks ahead to increase efficiency?
Think of your current tour operations like an iceberg. Just like these mammoth chunks of frozen water, most of what your customers and clients see is what's floating above the surface. As we all know, however, there's a lot more going on underneath.
Back Office Software Works Behind the Scenes
The travel software that you use to manage your suppliers and itineraries is known as back-office or back-end software. It's essentially the workhorse of your operation; the critical tool that allows both you and your staff to effectively run the company. From developing new tours to checking the date of a hotel booking for a particular customer, users can handle everything through this single tool.
For many, this software is likely to be quite inefficient, and without the level of functionality necessary for a modern tour operator. What's more, many will likely not even have a single tool in place and will manage operations using a hodge-podge of different applications.
So, if an upgrade is in order, when is the best time to actually do so?
Making the Change
The answer is, unsurprisingly, as soon as possible. Not utilizing the most capable tools for your business works against you, you can not work as fast and likely means you're missing out on numerous opportunities.
Think about it like this, if a builder had to hammer in 3000 nails on a house by hand, he'd be there for some time. Now, imagine if he had a nail gun! Nail guns save days on a house build and are considered a required tools to builders as they look to build more houses a year.
As the tour industry continues to evolve more of your competitors will be using nail guns (metaphorically) to increase their sales volumes. While you may think this answer is a little obvious coming from someone who sells back office software, there are actually strong reasons to improve your systems.
1) You Can Manage Everything from One Place
Modern back-end software means you can manage supplier, agent and client information from one location, including quotes, types of services, transport options and specials.
2) It's Easy to Create New Quotes
Instead of cumbersome software that was designed for a different purpose, why not use software that was made for tour operators? With purpose-built software, you can create itinerary quotes and manage them easily.
3) You Can Get a Better Overview of the Business
If you've been using a separate application to handle reporting and accounting, you can finally roll the functionality into a single piece of software, one that has optional cloud-based storage and even supports third-party accounting interfaces.
Is it time to make the change to new back-end software? I think so, and your business will be all the better for it. Get in touch if you'd like to learn more about what Tourwriter can do for you.