How Landing Pages Can Increase Tailor-Made Travel Package Sales
If your travel company doesn't use landing pages in conjunction with your online advertising campaigns, or you don't even know what a landing page is, then you will be missing out on a huge number of potential sales.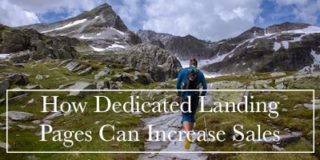 Landing pages should form a part of your lead generation plan and will help you grow your lead database, enabling your sales team to sell more travel packages.
What Is a Landing Page?
Before we talk about how a landing page can help you, let me explain exactly what a landing page is?
A landing page is a single web page, designed with a single purpose, or action, in mind. When visitors land on a landing page, because it has been optimized for the single action, the visitor is more likely to complete or convert the desired action. Simple really.
Many companies use advertising to increase web visits, however landing pages take online advertising to the next level. The most common landing page action or goal is to get an email address from an advertising generated visitor. Maximizing the return from your advertising spend means each click on one of your Adwords, for example,  should generate a new lead.
A 100% conversion rate is very unrealistic but hopefully, you get my point.
What Is Wrong with My Website as a Landing Page?
If you look at your website's most popular page (most likely your home page), you should find lots of information and many off-page navigation links that allow visitors to move around (but not off) your website. This is expected because your website is designed for many purposes and for consumers at different sales stages who will wish to navigate to different pages on your website.
So assuming your website has many purposes and given a successful landing page has a single purpose, it is highly likely that your website will not work as a landing page. The bottom line is, you shouldn't be sending advertising traffic to your homepage if you want more than just increased visitor numbers. This is important because it is a well-known fact that increasing visitors numbers isn't the best way to increase sales.
A typical landing page will look like your website (be consistent and on brand), however, off-page navigation will be absent.  It will funnel the visitor's attention, using words and graphics, to prompt them into completing the desired action.
You can use your website CMS to create a good landing page, however, I recommend using a Landing Page Tool. See below for more information on this.
A Landing Page's Desired Action Is Critical
Tailor-made travel companies are not online travel agents (OTA's) and your website visitors are generally not purchasing via your website. Your website will most likely be your shop front window aimed at drawing customers in and will be the best way to generate new leads for your sales team to follow-up with.
For most tailor-made travel companies the desired action (or conversion goal) should be to gathering contact details. Once you have contact details you can market to the lead and start to customize a package for the interested party.
How Can Landing Pages Help Grow Your Business
It all comes down to sales conversions really. You are probably marketing online via a number of channels. However, let's think about your Google Adwords campaign; how well are your current adverts converting? Whether your Google Adwords campaign purpose is gathering new leads, or generating sales, you should have a very good idea of how well you are doing. Is your conversion rate 1%, 5%, 10% or more? Most importantly, is it worth the money you are spending?
How would you like to double the number of conversions from your Google Adword campaigns? I would be very surprised if using Landing Pages didn't double your current conversion rate.
Tourwriter started slowly with landing pages; by moving just 2 campaigns the results were impressive.
We then moved all our online advertising to dedicated landing pages and saw a 153 percent increase in lead numbers over a two month period. 153 percent! The results were staggering. Our web visits stayed approximately the same but we increased the number of visitors who gave their contact details.
And this involved no additional advertising spend. In fact, using landing pages allowed us to identify and shut down campaigns with poor conversion levels, allowing us to slash our Google Adwords spend.
What Makes a Good Landing Page?
Tips for optimizing your landing page for conversion are endless. I suggest you "Google" the term "landing page tips" to see what I mean.
There are also some simple design fundamentals you should follow through and these are my top tips:
A good landing page will have messaging that relates directly to the advert just clicked.
You should be drawing your visitors in with a compelling headline or welcome.
To build up trust or confidence, include testimonial information with a customer photo.
It is vital to have a clear Call to Action (CTA) so your visitor is compelled to act. This is the desired action after all, so make sure the CTA is prominent, clear and concise.
As I mentioned earlier, you can use your own CMS to build landing pages on your website, however, I recommend going with one of the many companies offering landing pages tools. At Tourwriter we use Unbounce. The platform is super easy to use and their Unbounce University can get you up-skilled super quick. Check out the Unbounce 101 optimization tips here.
I would love to offer my 2 cents worth if you have any questions, so please reach out (use the comments box below).  I would also love to hear any tips you have on optimizing landing pages for conversion,  as this will be a future article topic.